It's no secret that lingerie can be sexually appealing and have an effect on romantic partners, sometimes even more so than being naked.
Studies have suggested that male rats may be conditioned to find female rats in tiny jackets more desirable than those without them ― leading neuroscientists to draw parallels with human arousal related to lingerie.
But a lot of lingerie-wearers like to don fancy undergarments purely for themselves, without any partner in mind. In the 2015 movie "Sleeping With Other People," Alison Brie's single character muses that she'll spend "about a month's rent" on luxurious lingerie set to simply channel her "inner Khaleesi."
"Lingerie and sexy underwear have been historically viewed as being for the partner's benefit only," psychologist Danielle Forshee told HuffPost. "But we're in a time when women are empowering themselves, saying, 'This is good enough just for me to wear.' And we can wear it whenever we want for how we want to feel in that day and moment."
Of course, not everyone is a fancy lingerie fan, and there is limited empirical research on the psychological associations with our most intimate garments. But anecdotal findings suggest many people get a mental health boost from wearing nice lingerie in everyday life, even when they aren't sexually active.
These days, there are many options to splurge on pricy undergarments that use high-quality materials and come in pretty matching sets. Nice lingerie doesn't have to be super lacy or overtly sexy to make its wearer feel empowered.
But why exactly would wearing nice underwear affect our mental health? Forshee and other experts break down some of the possible reasons.
Wearing nice lingerie boosts confidence.
"Wearing nice quality underwear or lingerie sets boost our confidence and self-esteem, even if no one sees it," said Carolyn Mair, a behavioral psychologist, author of "The Psychology of Fashion" and founder of psychology.fashion. "Feeling confident can make us appear more physically attractive because we tend to stand, walk, speak and gesticulate differently."
She noted that confidence can make the content of what we say seem more persuasive and is associated with being perceived as sexy, "which, depending on our objectives, might also boost self-esteem and enhance mental wellbeing." Wearing lingerie can evoke feelings of femininity, sexual liberation and power.
"The idea of wearing a nice or sexy lingerie for yourself can actually have a really positive effects on our emotional state," said consumer psychologist and Style Psychology founder Kate Nightingale.
"Our outfits are typically bound by cultural and societal norms … . Lingerie sets, on the other hand, do not have to conform to such norms because they are for our eyes only."- SHAKAILA FORBES-BELL, FASHION PSYCHOLOGIST
She pointed to the concept of "enclothed cognition," which suggests that the traits and feelings associated with certain clothing not only affect how others perceive you but also how you perceive yourself and behave in different attire.
"If you associate confidence, strength, attractiveness or anything else with the specific lingerie, you will start feeling a bit more like that when you wear it," Nightingale explained. "It's not a magical pill, but you will certainly feel a bit more confident or sexy."
It provides the freedom to express your personal identity.
"We choose clothes to protect us from the elements, to make our activities safer or to make a statement. Clothing is our second skin and an outward display of our identity," Mair said. "Our social identity is directed toward an external world, whereas our personal identity is directed toward how we feel about ourselves."
She noted that there aren't many empirical studies on the psychology of underwear but pointed to one from 2006 on lingerie consumption and its relation to feminine identity.
″[They] found that women considered underwear as a powerful, affirming and challenging identity shift from boring to daring, and expressing their true identity that they weren't able to project externally," Mair noted.
In this sense, undergarments provide the opportunity to express inner desires and instincts, free from any concerns about judgment or interference from others.
"Our outfits are typically bound by cultural and societal norms, meaning that we don't always have the freedom to express our specific tastes through our everyday styles," said Shakaila Forbes-Bell, a fashion psychologist and founder of Fashion Is Psychology. "Lingerie sets, on the other hand, do not have to conform to such norms because they are for our eyes only, or for the eyes of our partners. This freedom can be therapeutic for the wearer as it allows them to wear sets in styles that are a true reflection of their creativity and personal tastes."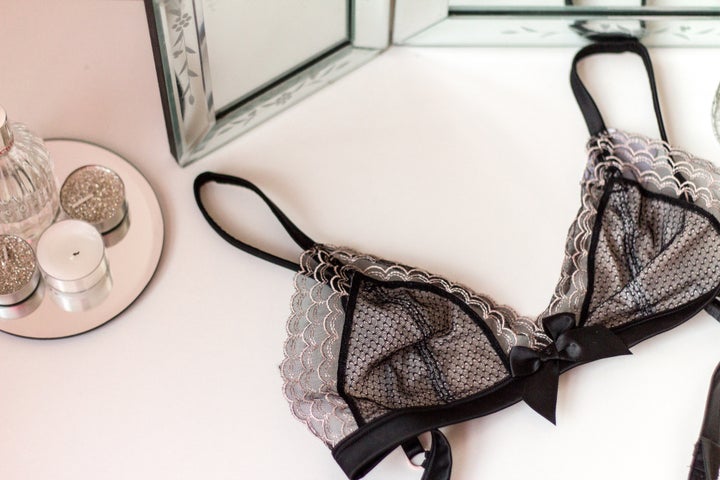 It can be a form of self-care.
"A woman buying quality underwear or lingerie can be a form of self-care, and it can boost morale," said licensed marriage and family therapist Saniyyah Mayo.
This may seem ironic, given that nice lingerie is not often the most comfortable underwear option. But the buyer may simply like the way she looks in a certain set or feel good mentally when she wears it.
"I think there's a level of self-care and self-love that goes into buying nice underwear or lingerie ― especially when no one else might see because they are literally only doing it for themselves," said licensed marriage and family therapist Rachel Thomasian. "Anything we do to make ourselves feel taken care of or loved can be self-care. When we take the extra step of buying nicer underwear for example, wearing them can feel like we are taking care of ourselves in a way. Whether the undies are sexy or just an upgrade in quality and feel from what you're used to, you're giving yourself some love by buying and also putting them on."
Making a conscious effort to feel and look good, whether it's with your undergarments, your eyeshadow or your socks, is a way of treating yourself.
"It takes time and effort to buy and put on a nicer set of lingerie, so treating yourself affirms your self-worth." Forshee said. "You're showing yourself that you're worth the time and effort."
It's important to note, however, that nice underwear isn't as important for everyone, and we don't need to be swept away into treating ourselves to expensive products beyond our means.
"Other basic self-needs, such as food, shelter and social support, need to be satisfied first," Mair said. "Also, if a person is not mentally healthy, it would take more than nice underwear to help improve their mental health."
Purchasing quality lingerie may trigger the brain's reward system, but those good feelings are generally short-lived and make us feel the need to buy more and more, noted Kati Morton, a licensed marriage and family therapist and host of the "Ask Kati Anything" podcast.
"Research actually supports purchasing experiences over items to promote more long-term positive effects," she said. "When we invest in a trip or event, our reward center is triggered longer, we can think back on that experience and get all the good feelings again and again."
Morton emphasized that self-care is also about things that don't cost any money, like drinking enough water, making time for loved ones, setting and upholding boundaries or standing up for ourselves at work.
It can offer an escape.
Sometimes it's enjoyable to play around with our style, experiment with new looks we never considered or even cosplay as a completely different person. This approach can also apply to more private garments, like our underwear.
"Wearing outlandish clothing that is a far departure from our norm can provide us with a sense of escapism. Therefore, for those who typically wear basic undergarments, wearing high-quality lingerie can double as a form of self-care as it will allow them the freedom to escape the humdrum realities of everyday life," Forbes-Bell said.
"Because no one sees it without our consent, we can feel unlimited to imagine ourselves the way we want to be," added fashion psychologist Marleen Beevers. "We act as the protagonist of our (life)play ― nobody around to break the spell!"
You get a sense of control.
Wearing high-quality lingerie under your clothes can also create a sense of power and control.
"People used to dress up, go outside and get external validation from 'Oh, you look nice!' or 'Love those shoes!' But now there's none of that, so they have to pivot and really dress for themselves, look for that internal validation."- DAWNN KAREN, FOUNDER OF FASHION PSYCHOLOGY INSTITUTE
"I haven't seen any studies looking at this, but I suspect the good feeling we have from wearing nice underwear is that it answers the 'what it…?' question," Mair suggested. "What if I have an accident? What if I meet the perfect stranger? Being prepared for the unknown is taking control. A lack of control is known to be one of the biggest stressors."
Forshee echoed this, noting that many women choose to wear nicer lingerie for social occasions so that they look the way they want to underneath their clothes in case they have a sexual encounter later.
"When they're going to a party or on a date, there's a sense of wanting to be prepared just in case something happens," she said.
For Fashion Psychology Institute founder and Fashion Institute of Technology professor Dawnn Karen, it's also about reasserting control amid the uncertainty of the COVID-19 pandemic and the necessity of wearing a mask to promote health and safety.
"If you feel like you're being told what to put on your body when you go outside, remember you can feel always free and in control with your lingerie ― that's just for you," she said.
It replaces external validation with internal validation.
Feeling good about what you're wearing, even when it's not visible, allows you to feel validation internally rather than seeking it from others.
Karen noted that before the pandemic, people were accustomed to getting compliments or comments on their outfits from the people around them as they went about their lives in public. Spending so much time inside and keeping a distance from others in the COVID-19 era has removed a lot of that.
"People used to dress up, go outside and get external validation from 'Oh, you look nice!' or 'Love those shoes!'" she explained. "But now there's none of that, so they have to pivot and really dress for themselves, look for that internal validation."
As we gradually return to pre-pandemic norms, like getting dressed to go out in public and interact with others more frequently, we can continue to turn inward for validation. And when it comes to clothing, that may involve the garments that aren't on display.
"I purchased lingerie as part of self-care during the pandemic when we weren't having a lot of human interactions, and I recommended it to my clients," Karen said. "People may stay in their pajamas for days on end, but they will change their underwear. I believe that women can wear lingerie for themselves, not for someone else."
You may feel inspired to dress nicely on the outside, too.
For some women, wearing a base layer of expensive or high-quality lingerie inspires them to put effort into their visible clothing, too, which can boost confidence further.
"Dressing up can improve your mood," Karen said. "It's part of what I call 'mood enhancement dress theory' ― you can optimize or elevate your mood when you're feeling anxious or down or undesirable by dressing up. And wearing nice lingerie may motivate you to wear something a step above sweats to further optimize your mood."
She believes many people will benefit from putting more effort into their outfits as they return to public life.
"Because we were in loungewear for a year, I think we're going to go back to that Great Gatsby era when people dress up for every little thing we do, to go to places where we didn't care to dress up before," Karen said. "Mood really matters, so I tell people to do a self check-in, determine how they feel, and dress to illustrate that or to enhance it. Right now, mood enhancement dress can be especially beneficial."
Need some inspiration? Shop these picks.
HuffPost may receive a share from purchases made via links on this page. Prices and availability subject to change.1A pack of undies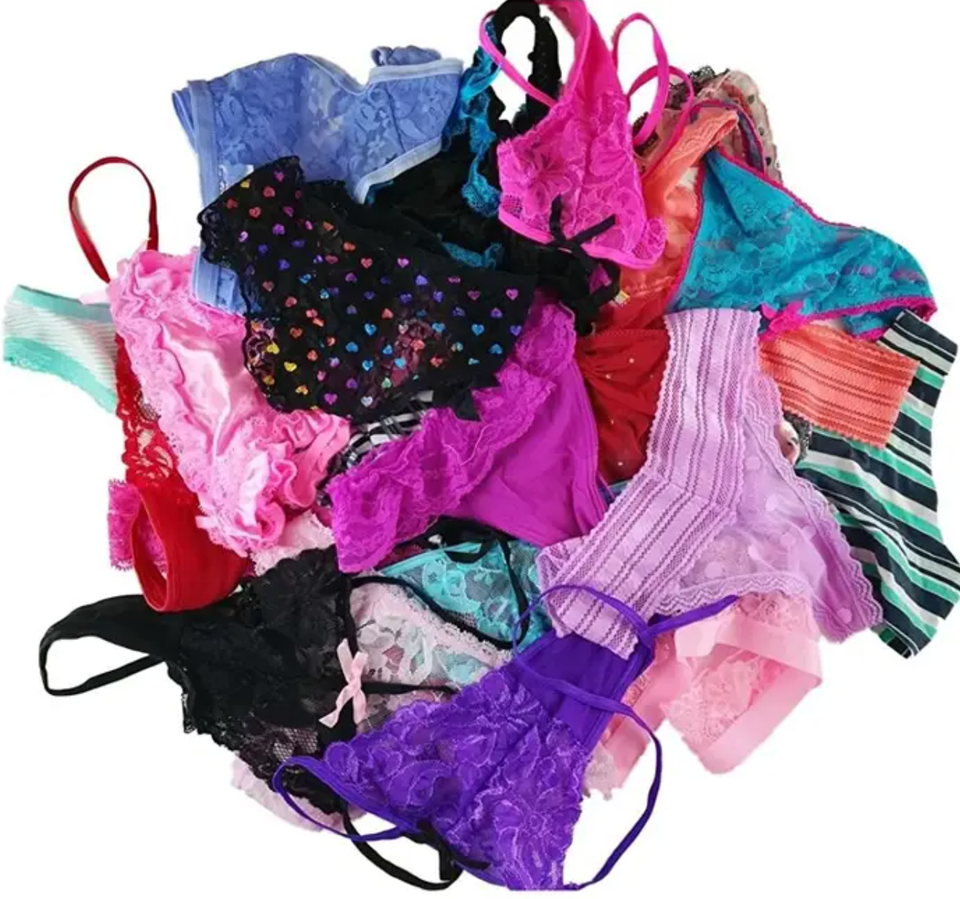 AmazonThis pack is filled with a variety of thongs, G-strings and hipsters to have you covered — as much as you'd like.
Promising review: "Love these soooo much! Honestly, was a little scared to try but I LOVE IT! Everything I got was soooo comfy and so cute. Definitely worth the price and it was a fun surprise to see what I got. Some designs are not what I would normally buy but having them now I totally would have never thought that I would like them! The boyfriend likes them too! Would recommend!" — Kat
Get a pack of 10 for $18.48 (available in sizes XS–3XL).2A lace and mesh bodysuit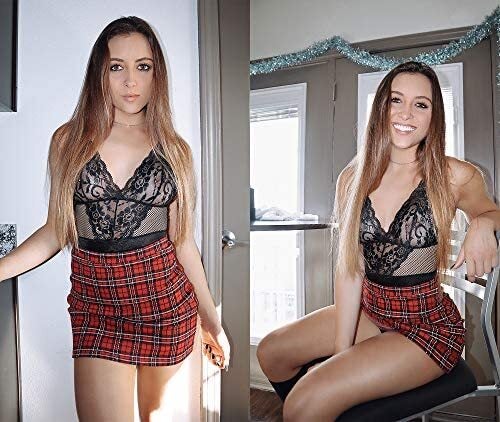 AmazonIt's designed with a satin waistband, and reviewers of all body types swear it's stunning.
Promising review: "OMG. I try not to say 'OMG' often as I find it pretty annoying, but this piece of lingerie is truly OMG-worthy. I bought it because one of my friends swears by one-piece style lingerie and it was cheap. It looks tight, doesn't look like it would have much breast support (kinda important with DDDs), and I am super, super self-conscious. However, I tried this on and immediately loved it. Without a bra, my breasts were held in a position that really accentuated their volume and cleavage. The middle band was tight enough to show off my waistline, but overall the entire piece is loose enough to be super comfortable. This piece makes me feel confident, comfortable, and sexy as hell. And yes, my boyfriend loves it too." — Kindle Customer
Get it from Amazon for $14.99+ (available in six colors, and sizes S-4XL).3A super-soft (and matching) microfiber Savage X Fenty demi cut bra and bikini bottom undies set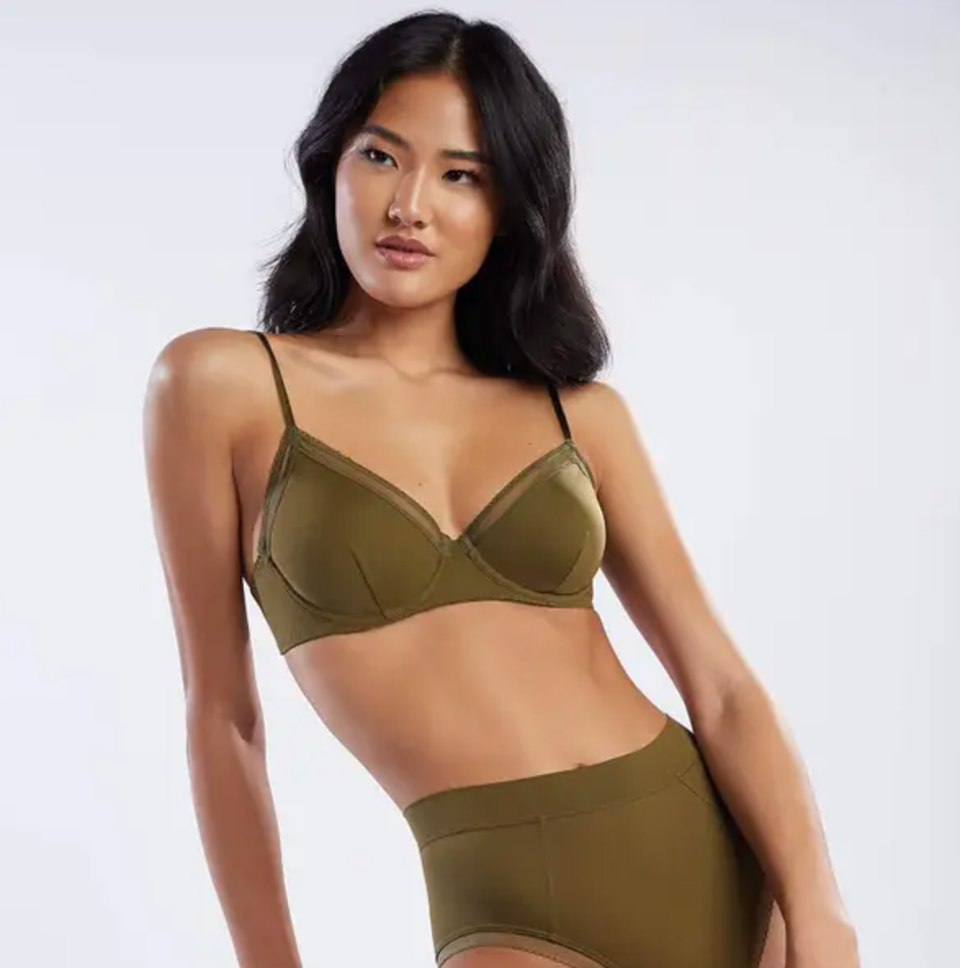 AmazonThese honestly aren't badly priced at all — but I want every color, which will be a bit of a splurge. FYI, the bra is included in Prime Wardrobe so you can give it a trial run if you're a member!
Promising review (for the bottoms): "These panties are sexy without being revealing, and the touch of lace around the legs is just adorable. The fit is excellent, and they just feel good against the skin. They hold their shape even after several washes and wears, which is a big plus. I was worried about the lace being an irritation to the skin, but it's not. It's soft, and I don't even notice it. Without a doubt, these are good panties, but they do run a little expensive for just one pair." — Momma Becky
Get them from Amazon: bralette for $31.90+ (available in nine colors, and sizes 32A-38D) and the undies for $8.44+ (available in 11 colors, and sizes XS-XL).4A gorgeous unlined HSIA minimizing bra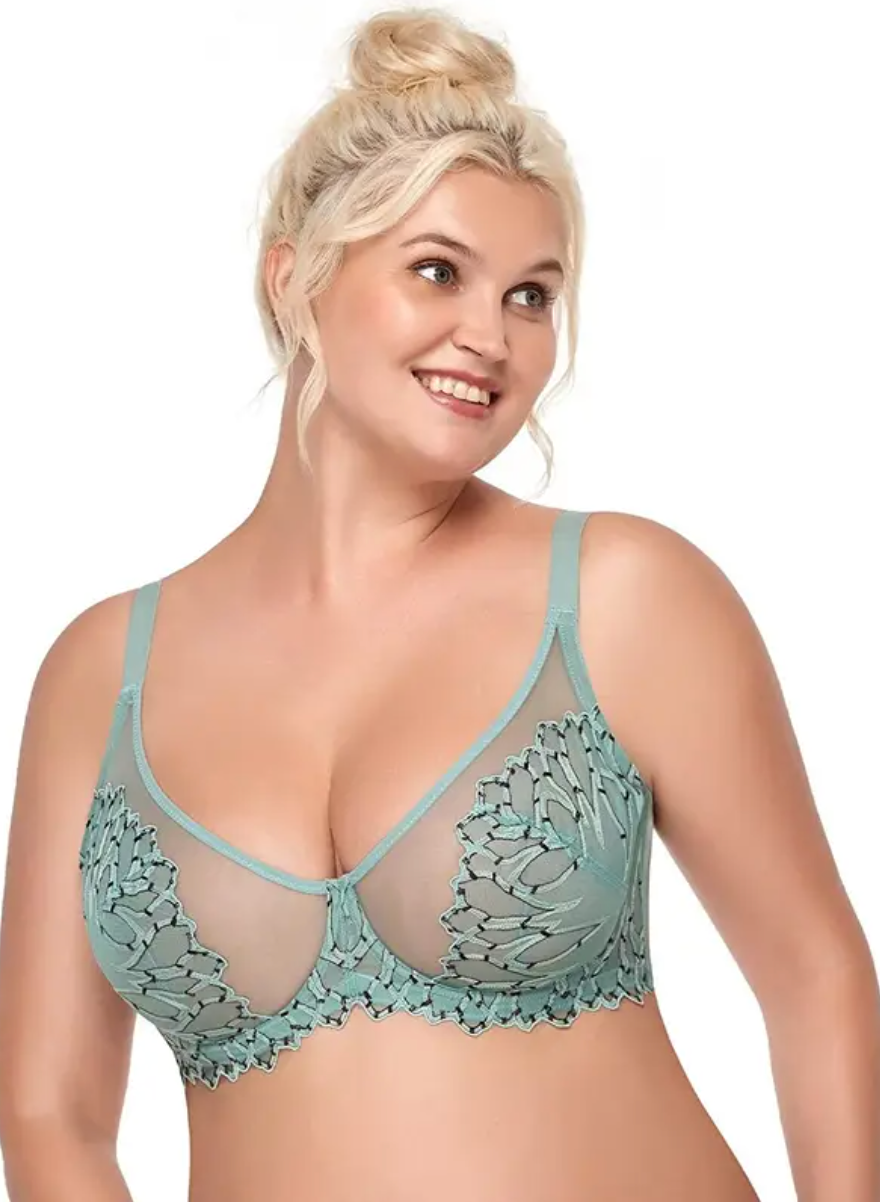 AmazonIt looks like something a mermaid would wear, in the best way.
Promising review: "This bra is, by far, my new favorite. I ordered three, and this one provides the perfect amount of coverage while still being adorable. It is also really soft and fits well. I plan to buy more in different colors which is easy since they are a fraction of Victoria's Secret bras." — Amazon Customer
Get it from Amazon for $19.99+ (available in four colors, and sizes 32C–42DDD).5A V-neck, lace-detailed chemise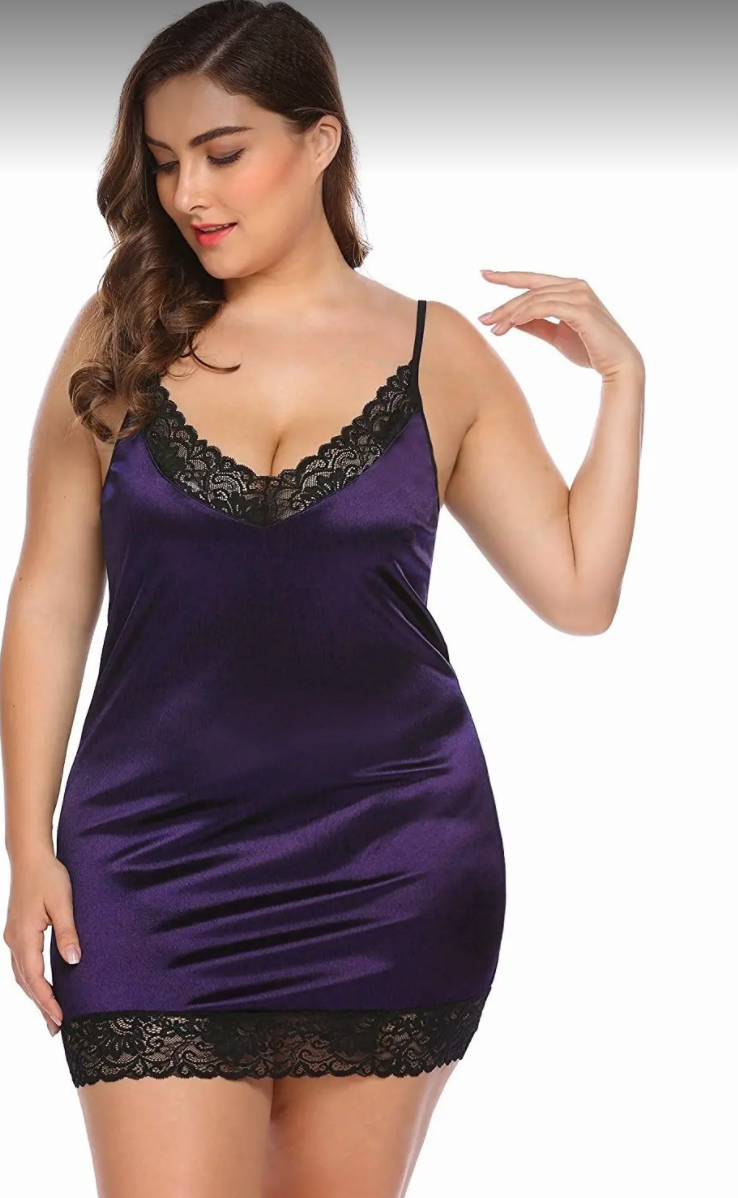 AmazonPerfect for layering under your favorite dress, and even better for when you take that dress off.
Promising review: "This is stretchy, soft, and has the perfect amount of lace. Plus, it's very comfortable and fits like a second skin." — Amat Photog
Get it from Amazon for $25.99+ (available in 22 styles, and sizes 16-28).6A pack of seamless high-cut lace panties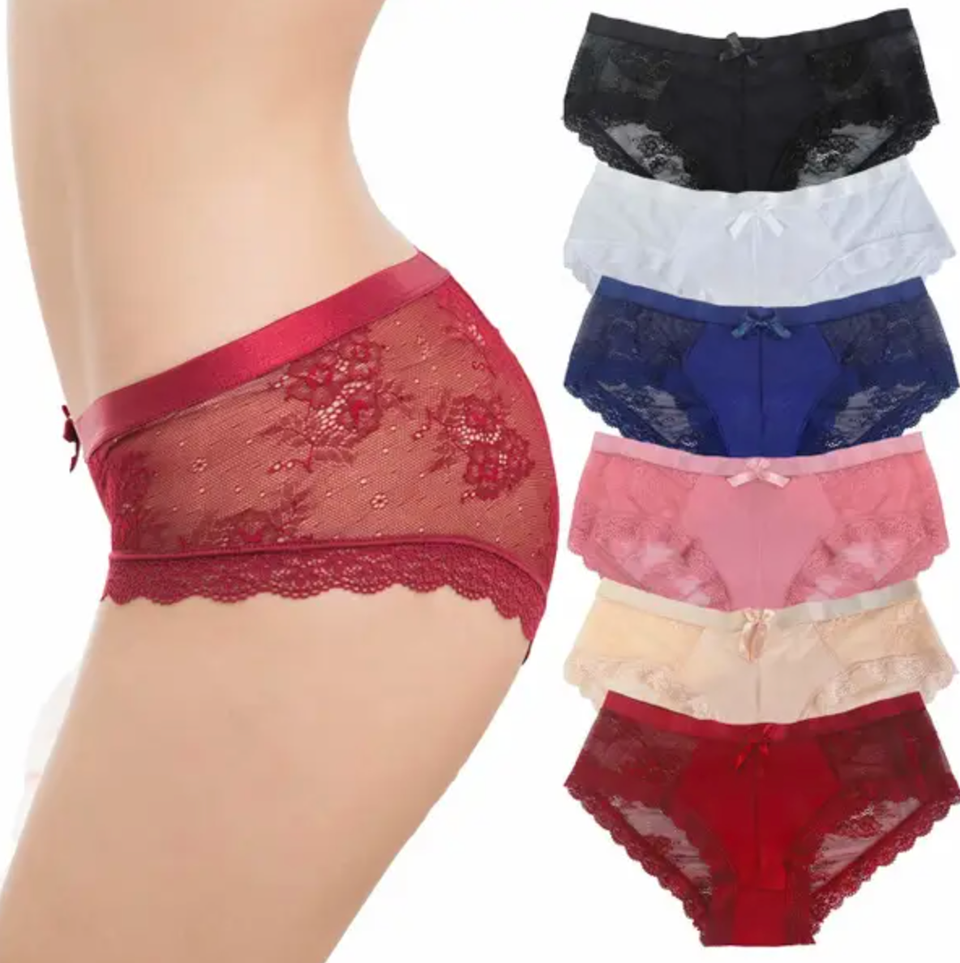 AmazonYou'll want to buy these ASAP — just look at all the colors they come in!
Promising review: "All my life, I have settled for merely acceptable underwear — underwear that would hopefully get me through the day with a minimum of embarrassment and discomfort. Well, today that changed. These cute, comfy underwear changed my life! They are decently priced but not cheaply made. They are comfortable and fit just right!! I love how they came in their own pink box and very discreet. There are six pairs all different colors in the box. They are also pretty sexy. All in all, I would absolutely buy these again and recommend them. These are a must-buy!" — Mandii
Get a pack of six from Amazon for $16.99+ (available in five packs, and sizes S–2XL).7An elegant matching bralette and lace undie set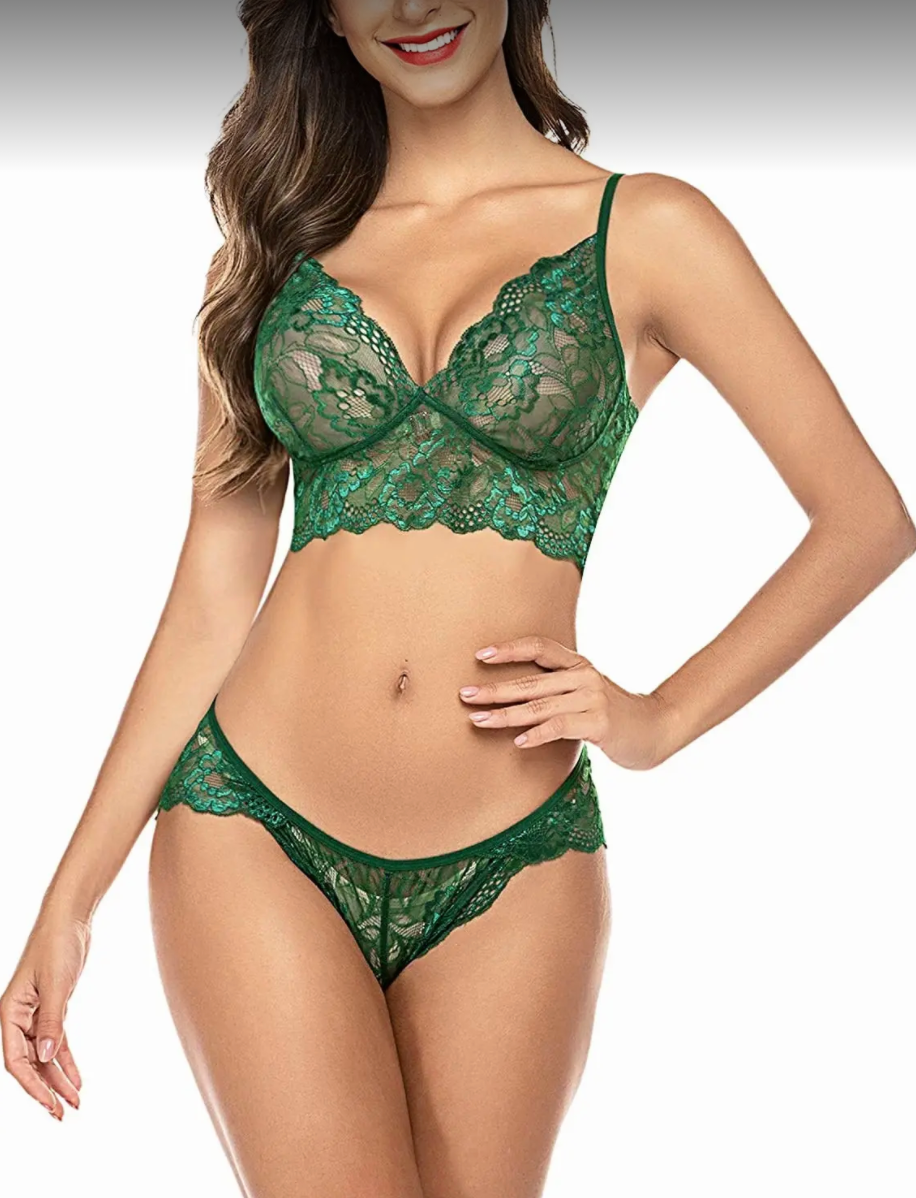 AmazonThis is cuter than any of the clothes you'll wear over it.
Promising review: "Wow, this set is much nicer than I was expecting! The material is so soft and not at all itchy, and I've had more expensive lace undies that were worse quality than this! The bra gives me more lift than the $30 PADDED bralette I was previously wearing before this. Honestly well worth the money. This set is both comfy and sexy." — Amazon Customer
Get it from Amazon for $9.99+ (available in 12 colors, and sizes S-2XL).8A pack of cotton and spandex blend hipster panties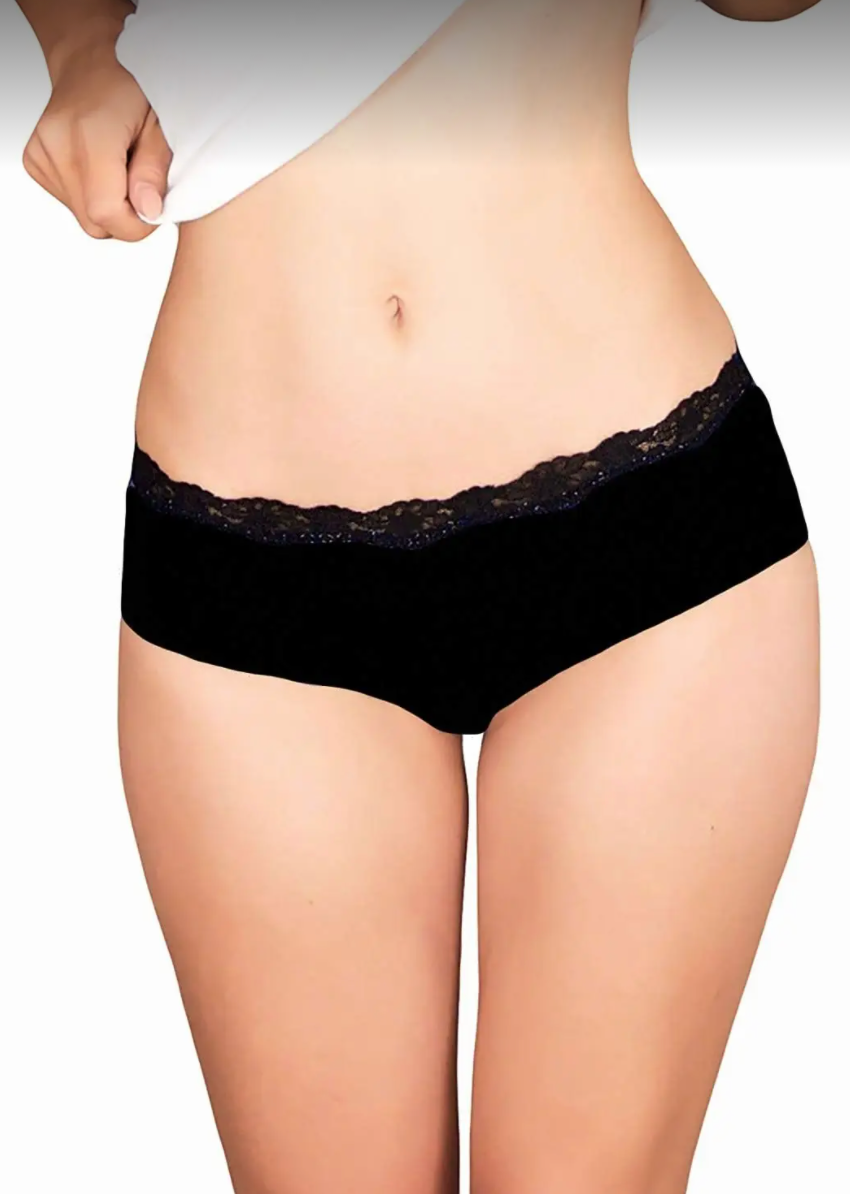 AmazonSo you're sitting pretty every day of the week — and then some.
Promising review: "The absolute BEST underwear EVER. I'm finally wedgie-free for the first time in my life! I was constantly picking my underwear outta my crack UNTIL I found these underpants!!! I'm literally getting rid of all of my other underwear because they suck compared to these. They're cute, comfy, and sexy enough — yet provide enough coverage to be all that you'll ever need. Two of my girlfriends have also made the switch and couldn't be happier." —Amazon Customer
Get a pack of 10 from Amazon for $17.99+ (available in four packs, and sizes S–4XL).9A padded, wire-free lace bralette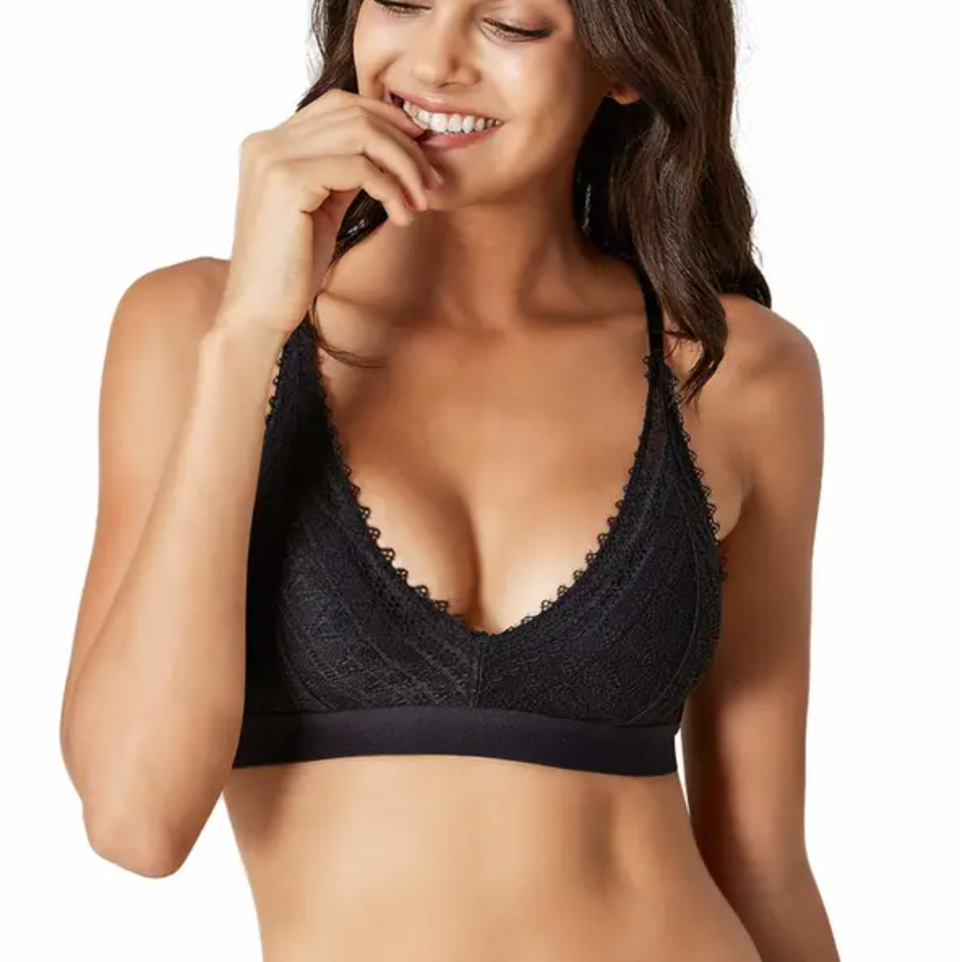 AmazonIt's designed to provide support without the bulk — plus it has that scalloped edge for a little extra va-va-voom.
Promising review: "I love this bra, it's super comfortable and the lace is very pretty. Perfect for daytime and nighttime. I've tried other bras from Amazon, so far this one is the best!! I love wearing it, makes me feel sexy. :)" —Nicole
Get it from Amazon for $16.99 (available in three colors, and sizes S-2XL).10A pair of lace and cotton thong panties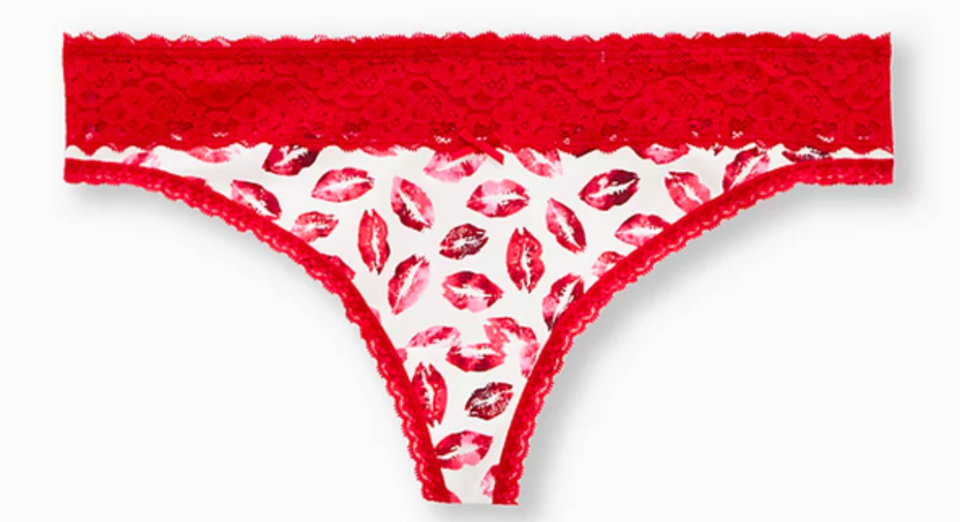 TorridPerfect for when you really want to tell someone to kiss your…
Get it from Torrid for $12.50 (available in sizes M–6XL).11An unlined Smart & Sexy lace bra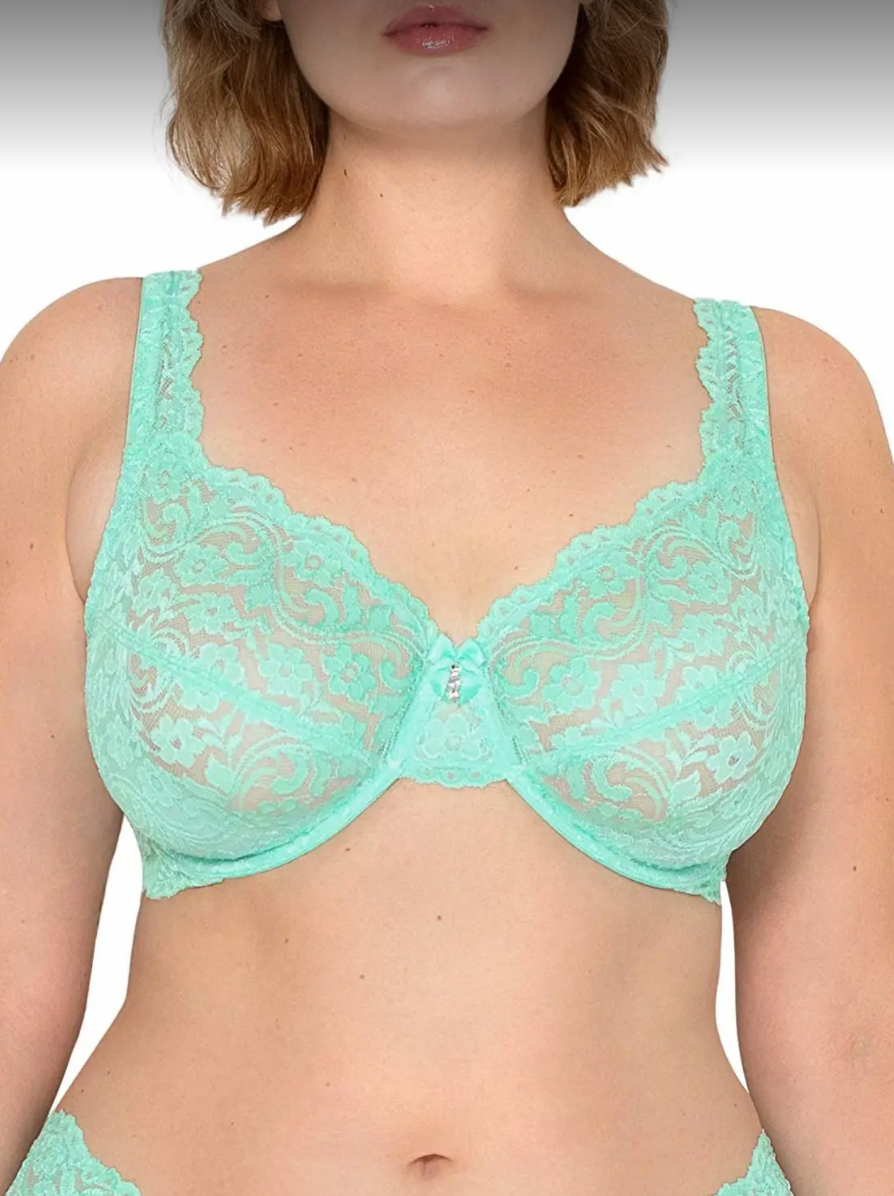 AmazonSo you can get some full coverage while still getting a sheer look.
Promising review: "I am in love with these bras and will definitely buy them again. They are soft and gorgeous. I cannot believe the price and quality. I am a 34DDD and these bras fit PERFECTLY and comfortably. In addition to these bras, I purchased two very expensive Wacoal bras. I like these so much more." — T. Morrisroe
Get it from Amazon for $11.73+ (available in 11 colors, and sizes 32C–46DDD).12A playful ruffle and mesh lingerie set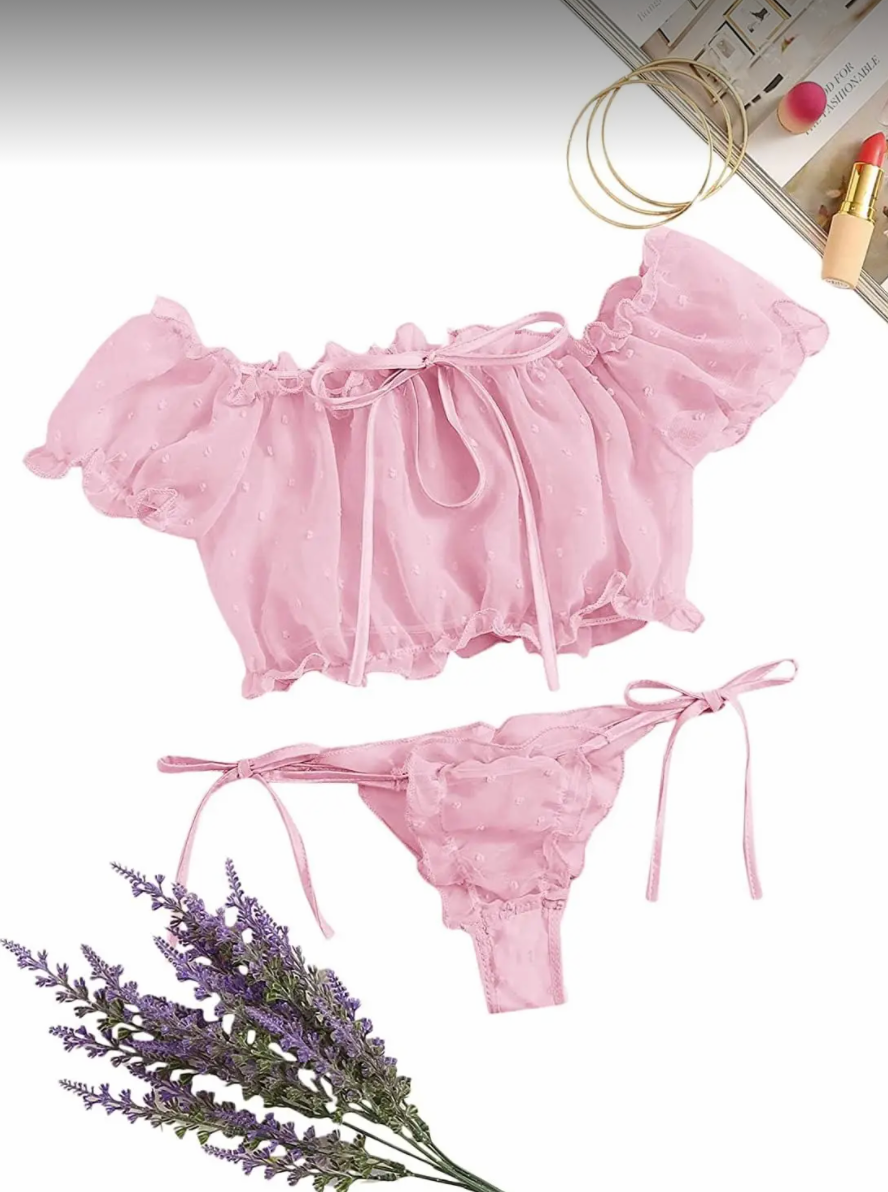 AmazonFor when you're feeling a little frisky.
Promising review: "This product is amazing! I am a member of the itty bitty titty community. The bottom was completely untied when it arrived and you tie it yourself. The top is comfortable and cute. It fits well and isn't too revealing. It's hard finding lingerie to fit me but this purchase was perfect and it arrived on time." — Mandy
Get it from Amazon for $7.15+ (available in 28 colors, and sizes S-2XL).13A pack of low-rise lace trim thong undies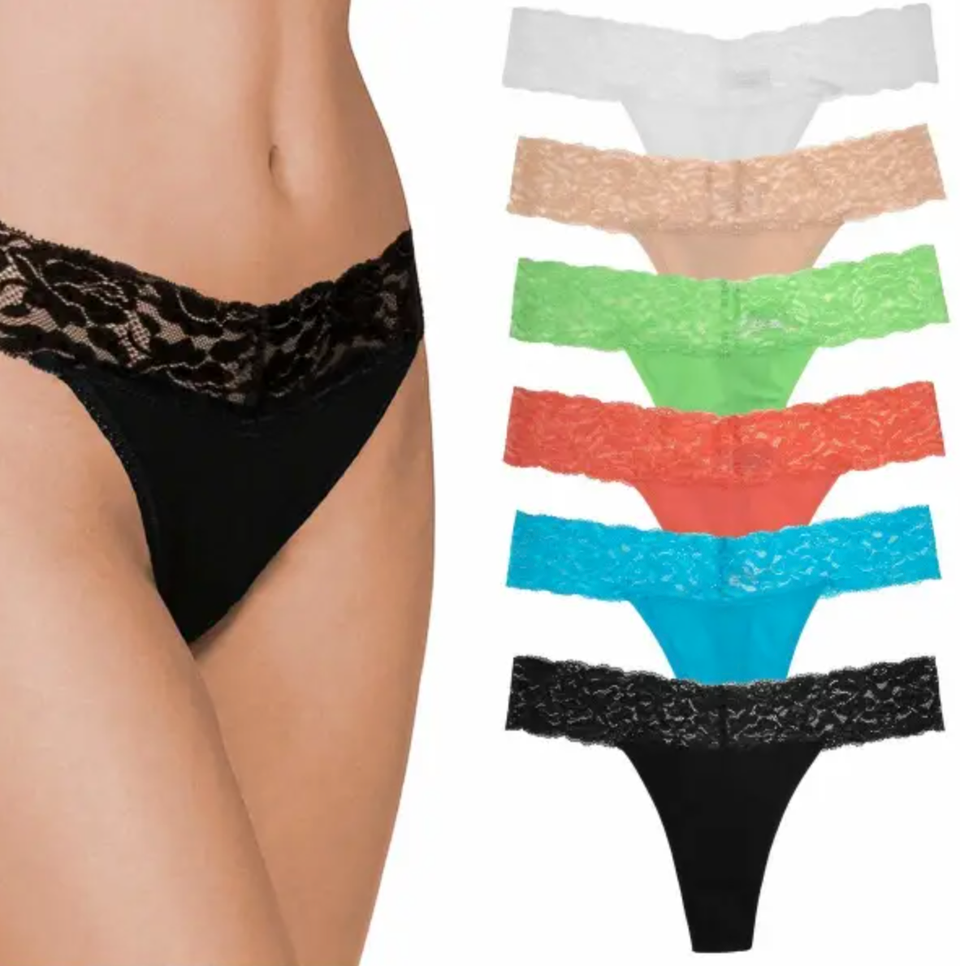 AmazonSo comfortable you'll forget you're wearing them — and thanks to the design, no one will *see* you're wearing them.
Promising review: "Comfy is the keyword here. I'm very picky when it comes to underwear since I'm quite bottom-heavy, but these are perfect! The lace trim is soft and stretchy, which allows a perfect fit around my waist. Based off the size chart provided, I went with the medium (6–8), as I've been a size seven in many different brands of underwear in the past. Because of the stretch in the lace, I would maybe consider one size smaller since they may stretch over time." — Kim
Get a pack of six from Amazon for $12.99+ (available in four colors, and sizes XS–XL).14An embroidered lace push-up bra and matching undie set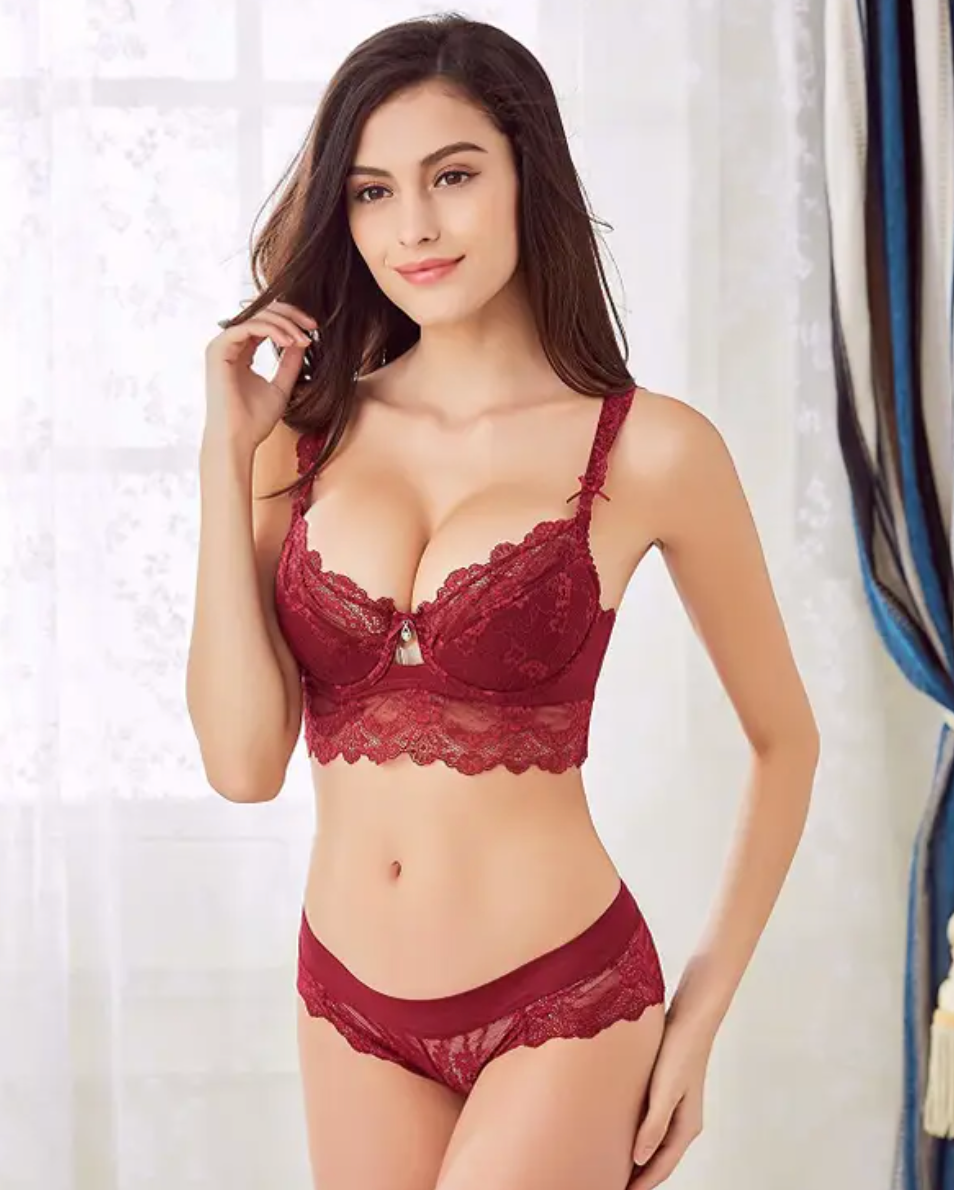 AmazonSo you can get all matchy-matchy beneath the sheets — or your clothes.
Promising review: "I was very worried about getting a set but this fit perfectly, top and bottom! I took the advice I was seeing in other reviews and ordered one size up, a 40D. (Normally I am a 38D.) It is truly a perfect fit. It is also incredibly comfortable and very sexy! I am greatly anticipating my husband's face when I show him." — Kelly Reney
Get it from Amazon for $17.99+ (available in five colors, and sizes 32A–40D).15A flirty little pack of cheeky lace undies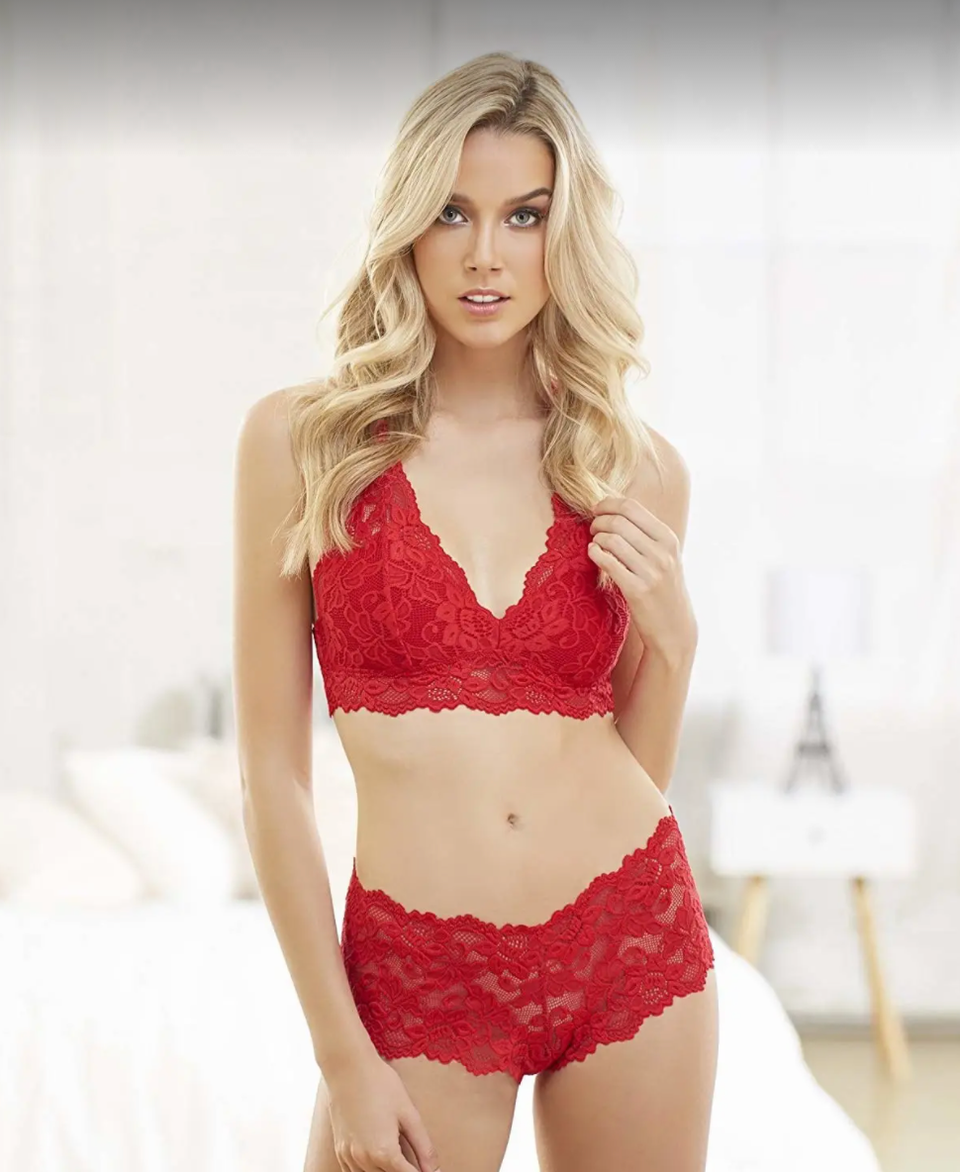 AmazonThey're the perfect combination of sexy and comfy — just like you!
Promising review: "I don't usually write reviews but these deserve a 5/5. They are soft and comfortable, you can barely feel them, but they are also sexy. I can wear them with any type of bottoms (leggings, jeans, skirt, etc). I will definitely purchase more!" —Laura Shelly
Get a pack of three from Amazon for $16.90 (available in six packs, and sizes XS–2XL).16A pack of luxuriously stretchy and flexible G-string underwear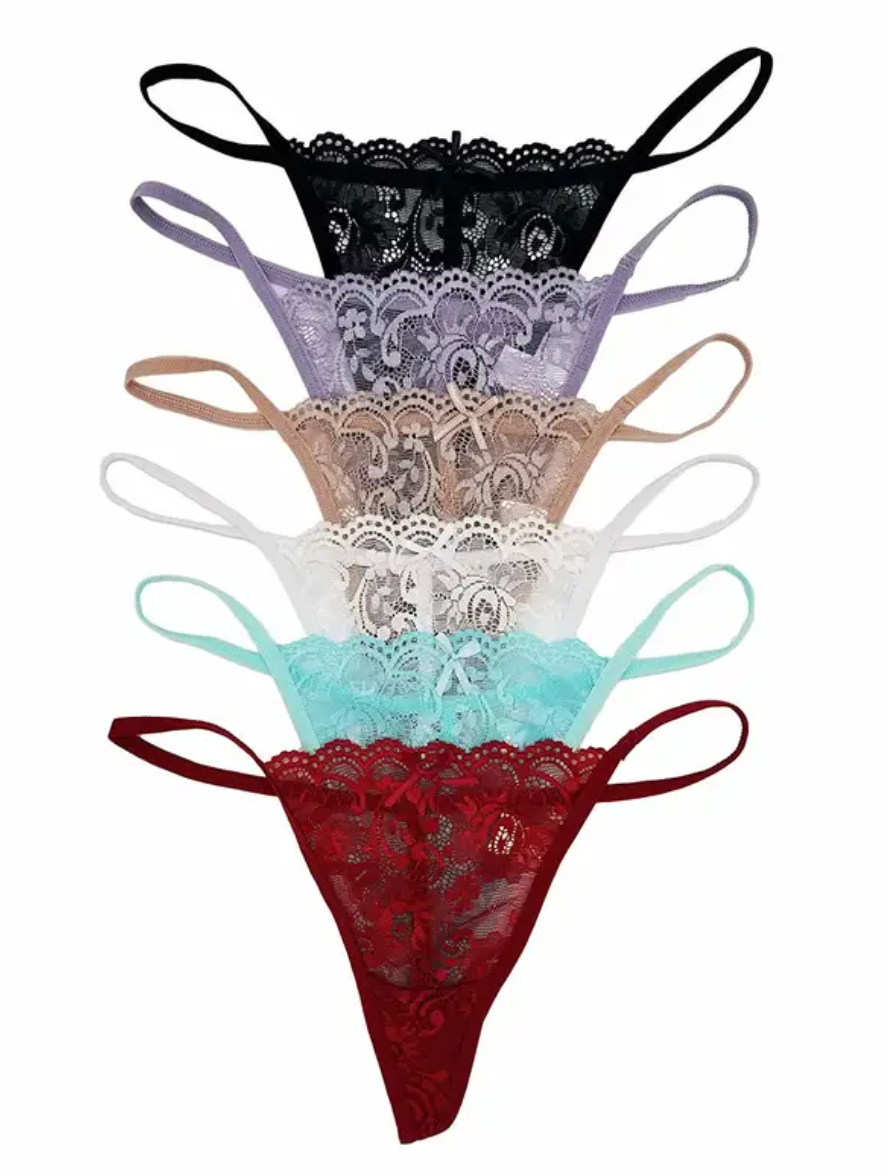 AmazonThey're designed with a floral lace and discrete silhouette so the only people who can see them are the ones you want to see them.
Promising review: "Sexy and comfortable. These are amazing. My husband loves them on me. Out of all six, one seam came loose on one pair…though we could've just been rough with them on the honeymoon." — TnA
Get a pack of six from Amazon for $12.99 (available in sizes S-XL).17A padded lace-detail halter bralette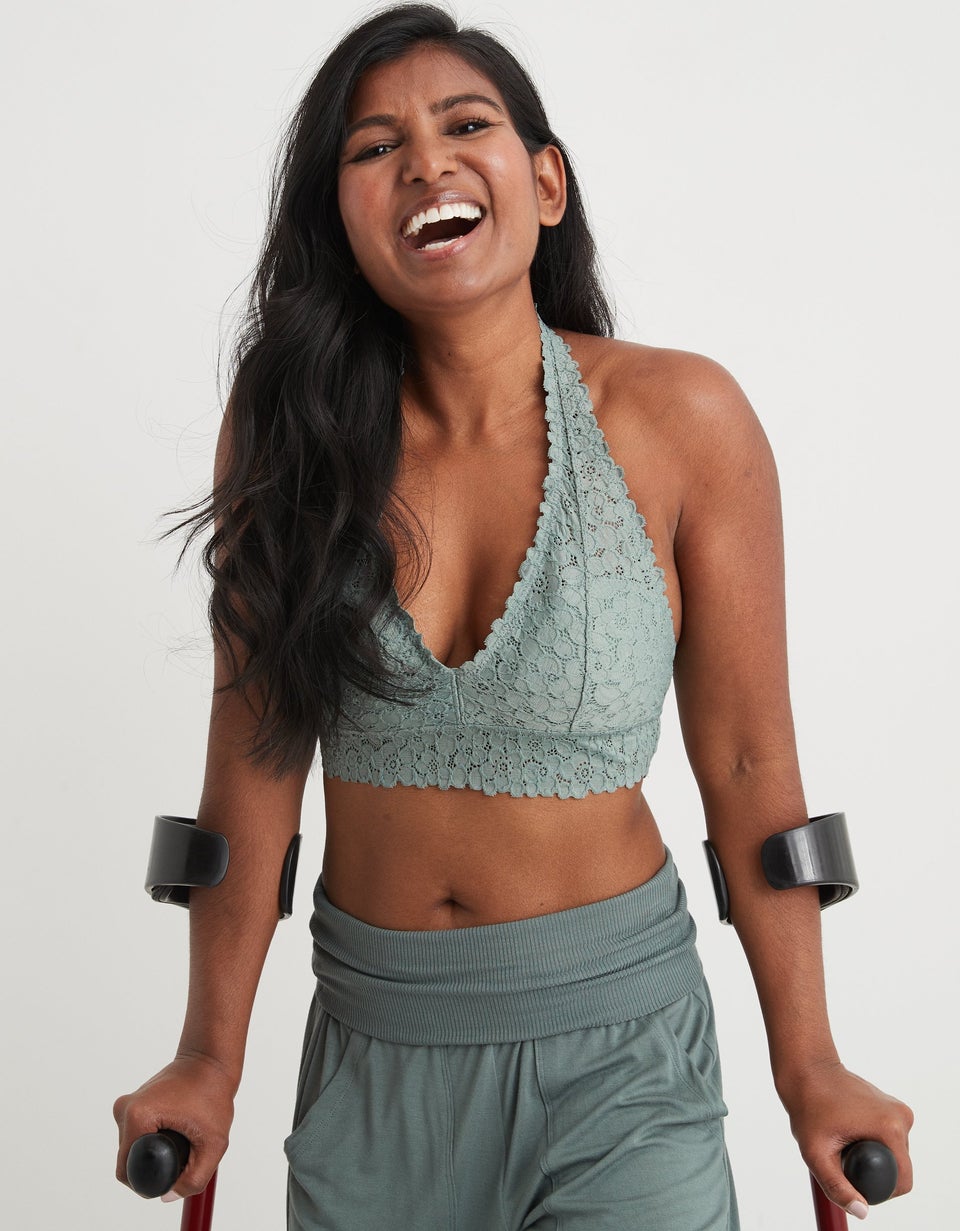 AerieIt's comfy enough to layer up while you lounge around the house.
Promising review: "It fits great on my chest and is very comfortable to wear! Would recommend!" — ALICE
Get it from Aerie for $20.97 (available in six colors, and sizes 2XS–2XL).18A pair of soft jersey low-rise boy shorts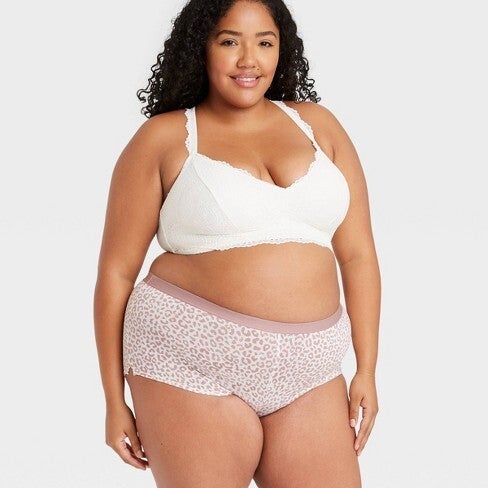 TargetThey're available in classic solid colors or in this adorable print to give your undies drawer a little life.
Promising review: "This is one of the few pairs of underwear I own that passes the wedgie test! I can wear these all day without them riding up or sliding down, and no wedgies! Not to mention the material is really soft so they're just all around very comfortable underwear. I'm buying one in every color now." — Maria LB
Get them from Target for $6.99 (available in four colors/styles, and sizes XL-4XL).19An underwire thong bodysuit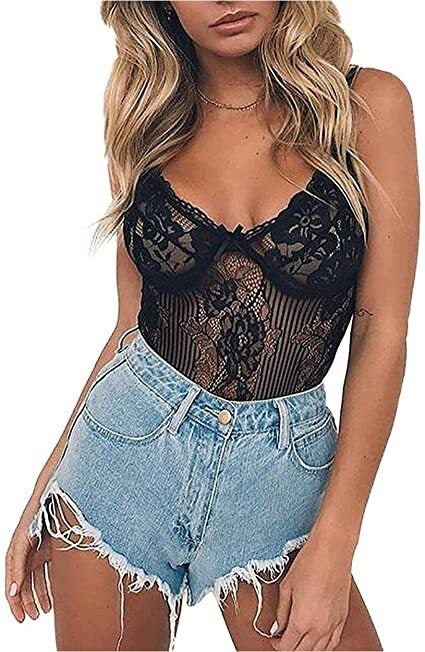 AmazonFor when you don't want those damn panty lines but still want the bodysuit look.
Promising review: "My usual size fit perfectly. The material is super stretchy and very comfortable, I'd pick this lingerie over my Victoria's Secret lingerie any day!" — T.S.
Get it from Amazon for $13.99 (available in nine colors, and sizes S-4XL).20A set of unlined lace full-coverage bras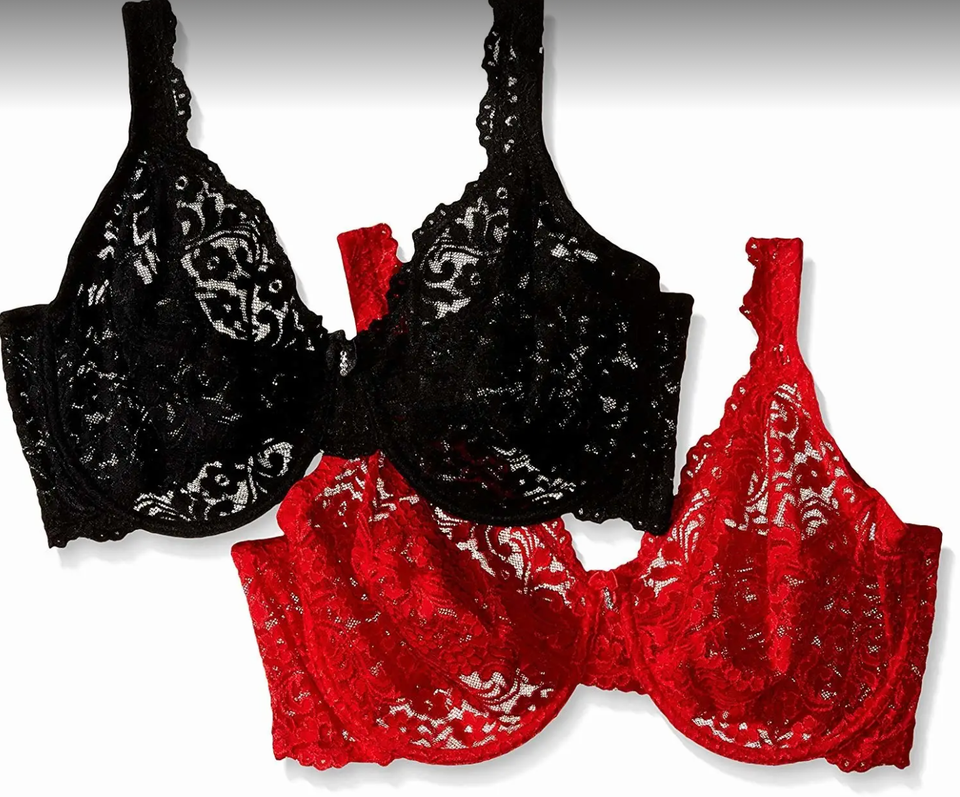 AmazonYou can perfectly pair these with your favorite silky button-up — imagine them peeking out just enough!
Promising review: "These are unbelievably pretty and comfortable. I was a manager at Victoria's Secret for years and can honestly say these are far superior to anything we sell. I have recommended to many of my busty lady friends. Girls, you can even sleep in these and wake up with everything where you left them." — JAMIE LEE DUNLEAVY
Get a pack of two from Amazon for $20+ (available in four colors, and sizes 34C-44DD).21A minimizing floral lace bra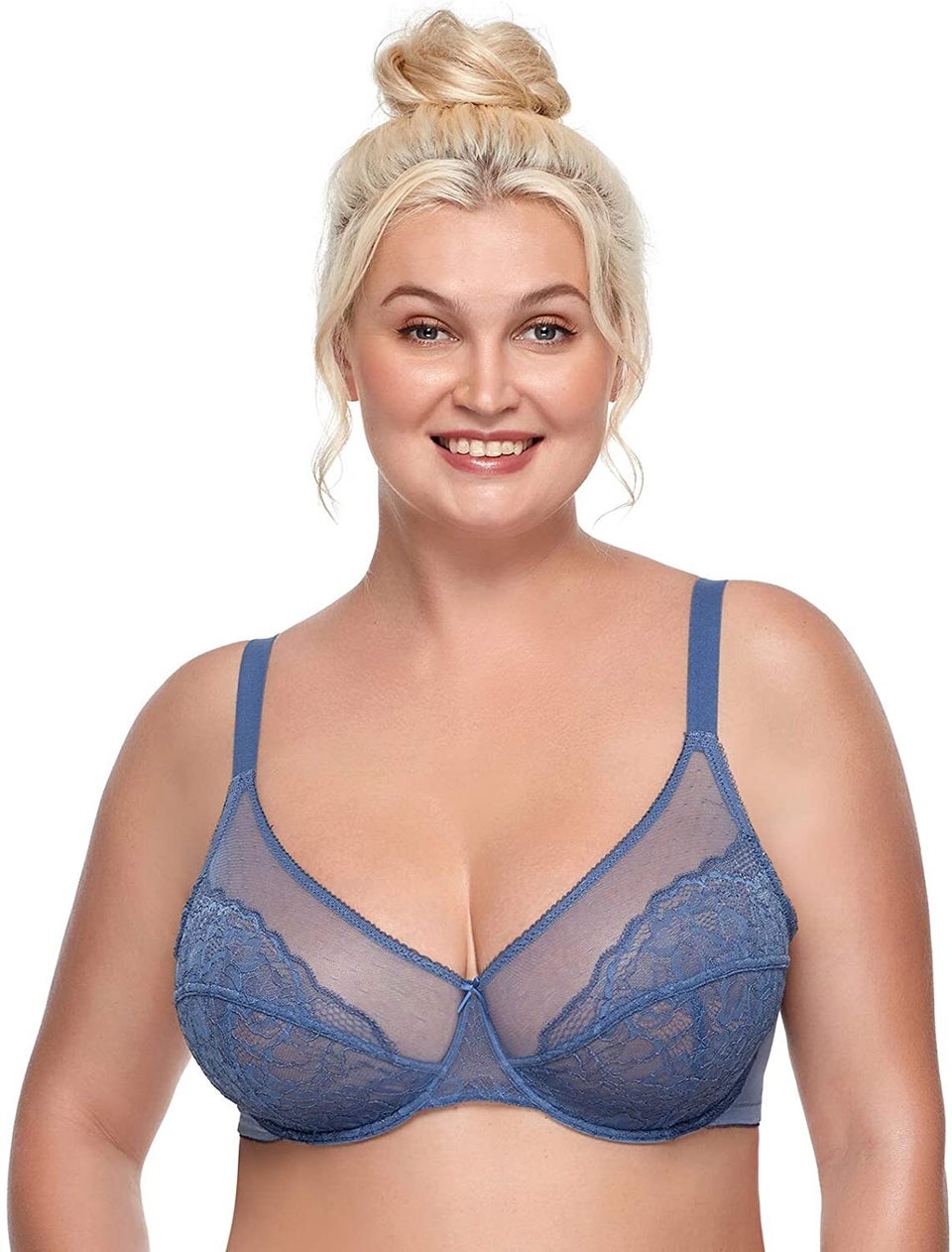 AmazonIt'll always be there to offer you the support you need.
Promising review: "Great bra, I wasn't sure how this was gonna work out since I don't buy bras online, but it turned out pretty good. Color is pretty true, sizing is also true, and I find it really comfortable because of the thick band. Doesn't dig into my armpits and doesn't ride up from behind. It's pretty light and thin, so far it's a great purchase." — Sipeish
Get it from Amazon for $17.84+ (available in 21 colors, and sizes 32C-44DDD).22A pack of the softest and stretchiest cotton underwear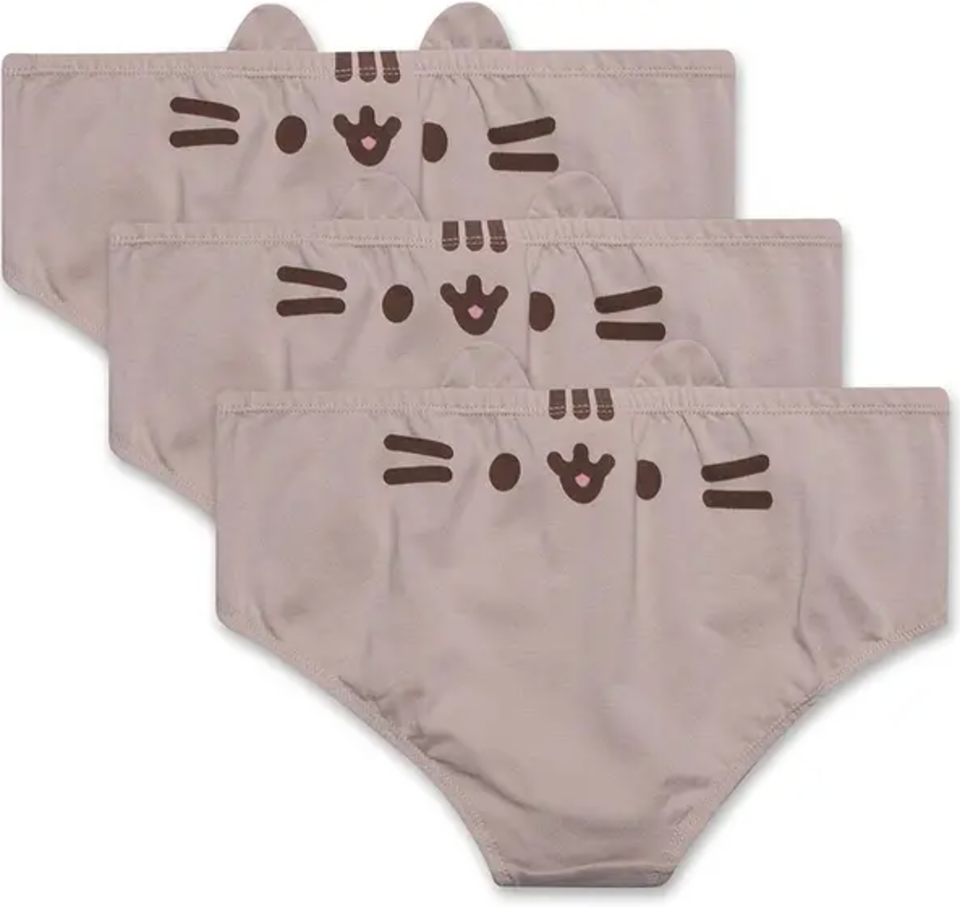 AmazonFor those days when you decide to forgo pants and set up shop on your couch.
Promising review: "I love these underwear! Very cute and comfortable. The only problem that I have is not staring at myself in the mirror to look at them. I will definitely be buying some more in a different color." — Amazon Customer
Get a pack of three from Amazon for $19.99 (available in four colors, and sizes M–XL).23A two-piece lingerie set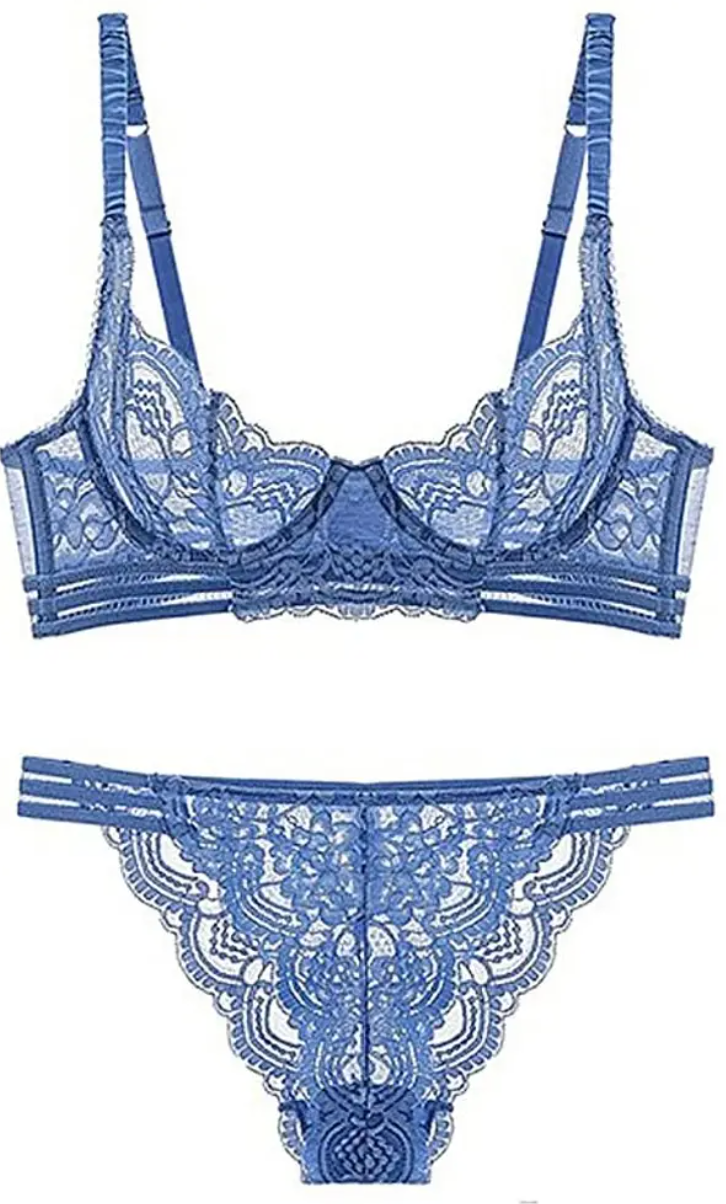 AmazonComplete with an adjustable lightweight bra and lace panties — sometimes you'll just need a little extra something underneath your daily uniform.
Promising review: "I love this set. It is super comfortable and the stretch lace provides a little lift, which I need. Even the panties fit me well." — J. Matthews
Get the set from Amazon for $13.99+ (available in seven colors, and sizes 32B–40D).24A pack of stretchy Camelia string panties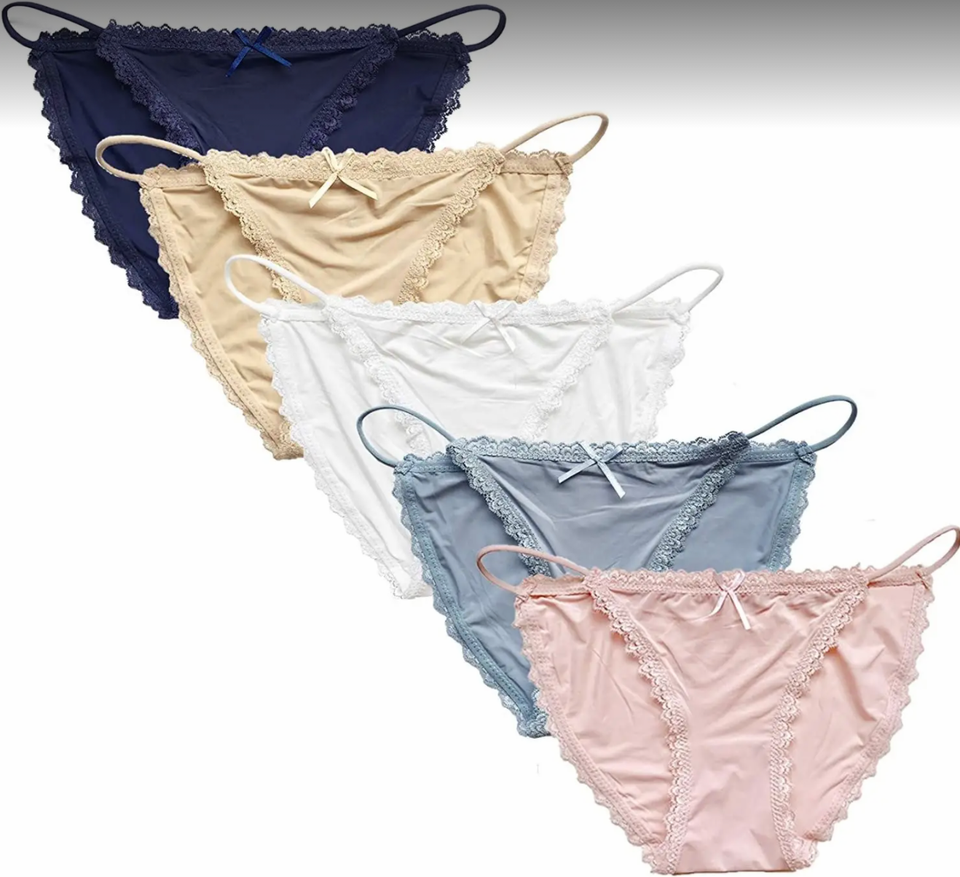 AmazonThese are designed in cotton and with silk lace for ultimate comfort.
Promising review: "Extremely soft fabric and very well made. They're basic and classic solid colors that fit perfectly — cute and sexy styles! Really like these and will buy more. They're still in very good condition after washing in a mesh bag too." — Nay
Get a pack of four from Amazon for $14.99+ (available in six sets, and sizes XS–XL).25A plunging V-neck lace bralette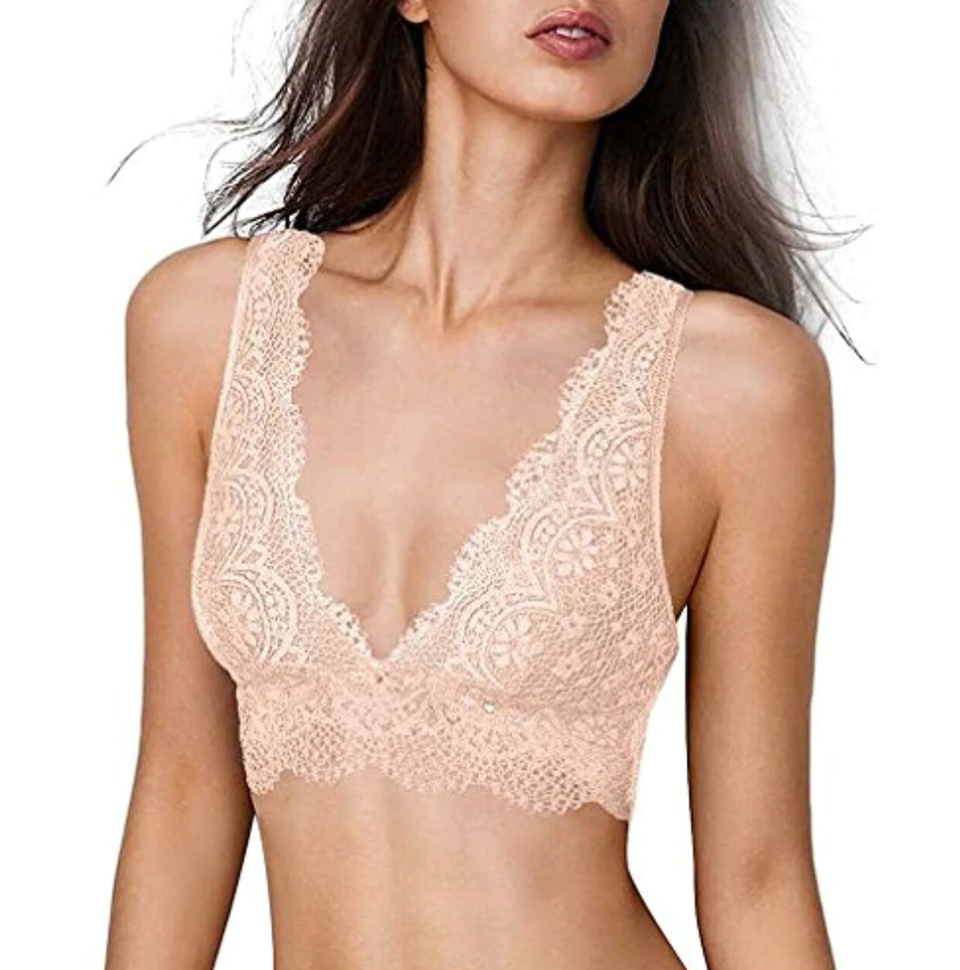 AmazonYou'll look so damn gorgeous in this that you might just decide to wear it as a top.
Promising review: "I love this bralette. I wasn't sure what size to go with after reading the reviews but just went with a small, my regular size (I'm a 32B for reference) and it fits great! Super comfortable and the detailing looks well-made. I'm going to order in different colors!" — BaileyJudd
Get it from Amazon for $14.99+ (available in four colors, and sizes S–2XL).26A curve-conforming underwire bra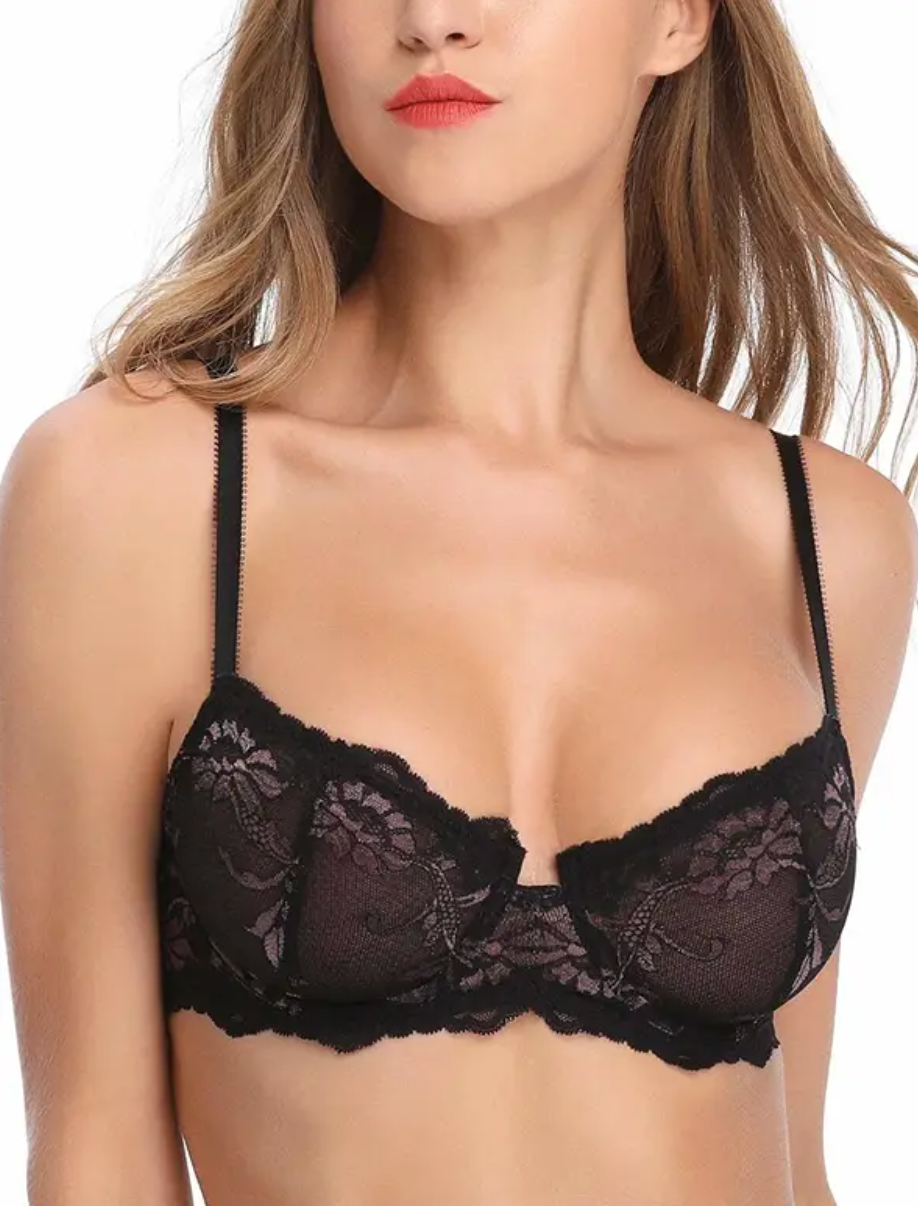 AmazonThis is designed in a gorgeous sheer lace for a major upgrade to your raggedy ol' bra.
Promising review: "I constantly complain that I can't find a pretty, comfortable bra. Most seem like body armor and are so thick. This one fit my 36C cups true-to-size. It's so pretty on, comfortable, arrived quickly, and all for about half the price of fancy stores. BTW, my husband loves it." — Fredrica
Get it from Amazon for $15.99+ (available in three colors, and sizes 34C–44DDD).27A set of lace hipster undies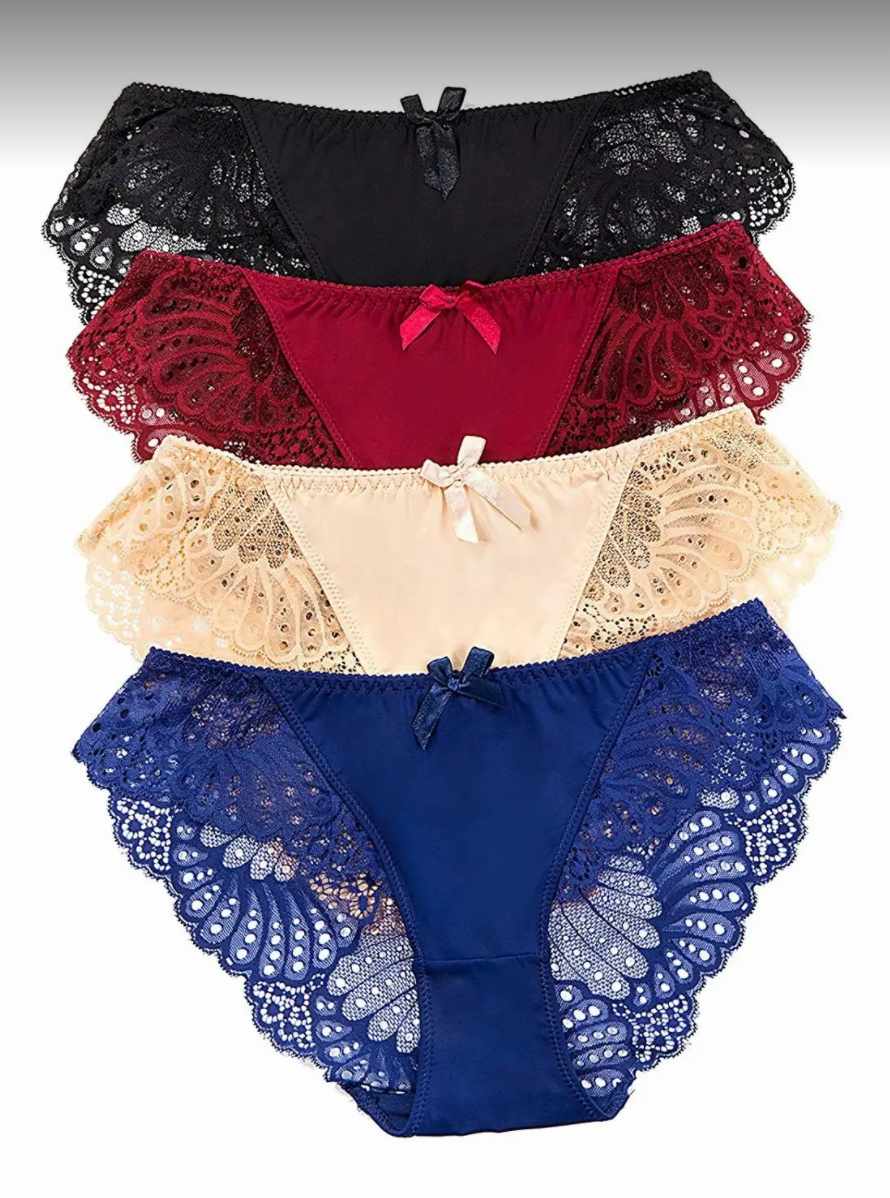 AmazonThey have a gorgeous butterfly design along the, well, butt.
Promising review: "I love them! They are sexy, cute, but also very comfortable — which are all important factors. They're made of a soft, quality material, not scratchy or stiff. The backside is comfortable and covers what you want it to." — Tammy Taber
Get a pack of four from Amazon for $16.90 (available in four colors, and sizes S–2XL).28A Delimira underwire bra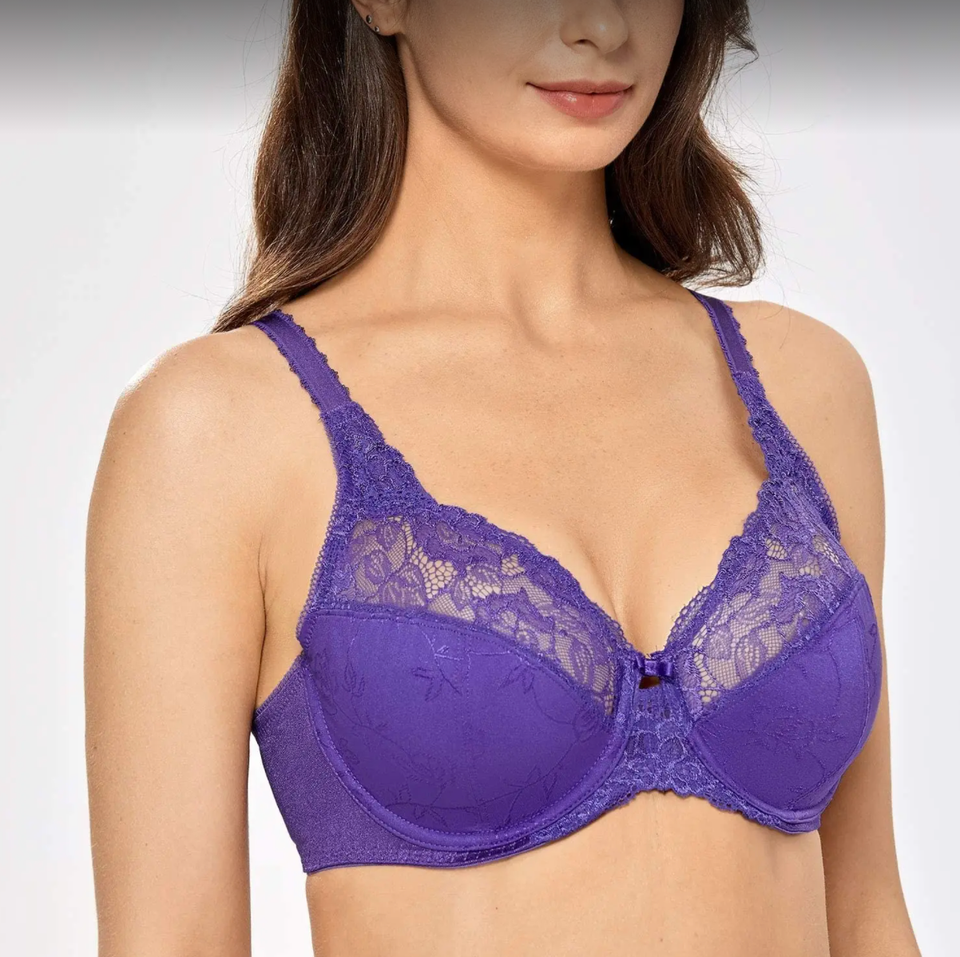 AmazonIt has soft lace details so you can finally have a functional bra that doesn't look totally ugly.
Promising review: "You have no idea how hard it is for me to find a decently priced bra that FITS! This is so perfect! I'm 36G and the middle actually touches me. It's so comfy! I'm ordering one in every color! I'm very happy with this!" — Boggirl907
Get it from Amazon for $19.49+ (available in 24 colors, and sizes 34B–48F).29A mesh and lace V-neck one-piece
AmazonYou can discreetly wear this under your favorite dress for a big reveal.
Promising review: "First I want to say that this piece of lingerie is so stunning and more comfortable than anything. It gives your curves plenty of room. I will say that it won't give you support but it looks great, even with big breasts." — Mackenzie
Get it from Amazon for $10.99 (available in two colors).30A secure Glamorise front-closure bra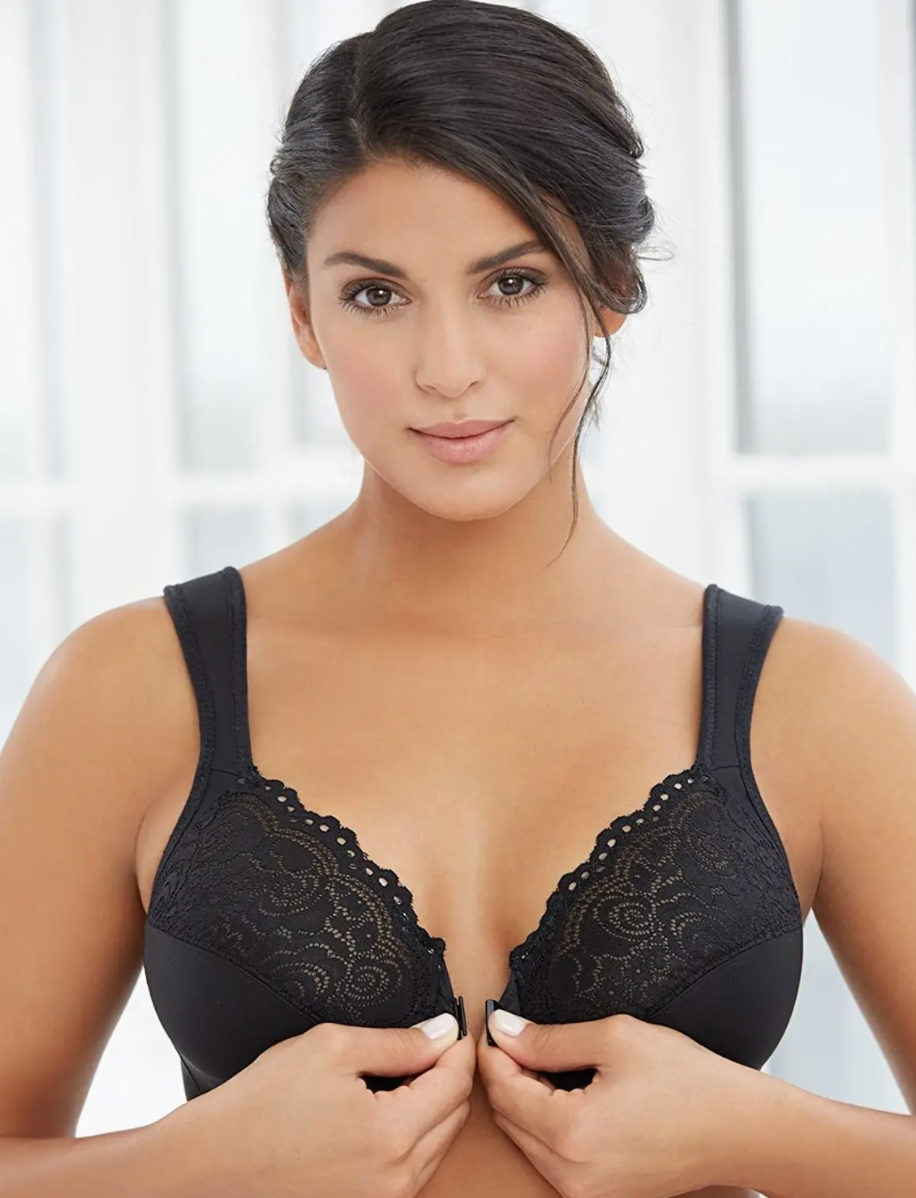 AmazonIt's made with a moisture-wicking fabric, a cushioned band and an underwire that cradles your bust so the wire never touches your body. FYI, the bra is included in Prime Wardrobe so you can give it a trial run if you're a member.
Promising review: "I cannot tell you how happy I was after the first day of wearing this bra. I have been wearing nothing but Cacique because of the support that helps prevent back pain and thought I was stuck with the heavy, squeaky, padded (seriously, I'm a 42G — on what planet do I need to add bulk??) with straps that constantly slid off my shoulders. This bra has cushioned straps that stay in place, gives great support, is super comfortable, but the best part is it makes me look so good! Please never stop making this bra!!! More color options would be wonderful." — Amazon Customer
Get it from Amazon for $17.60+ (available in 10 colors, and sizes 34B–56DD).31A pair of cheeky lace panties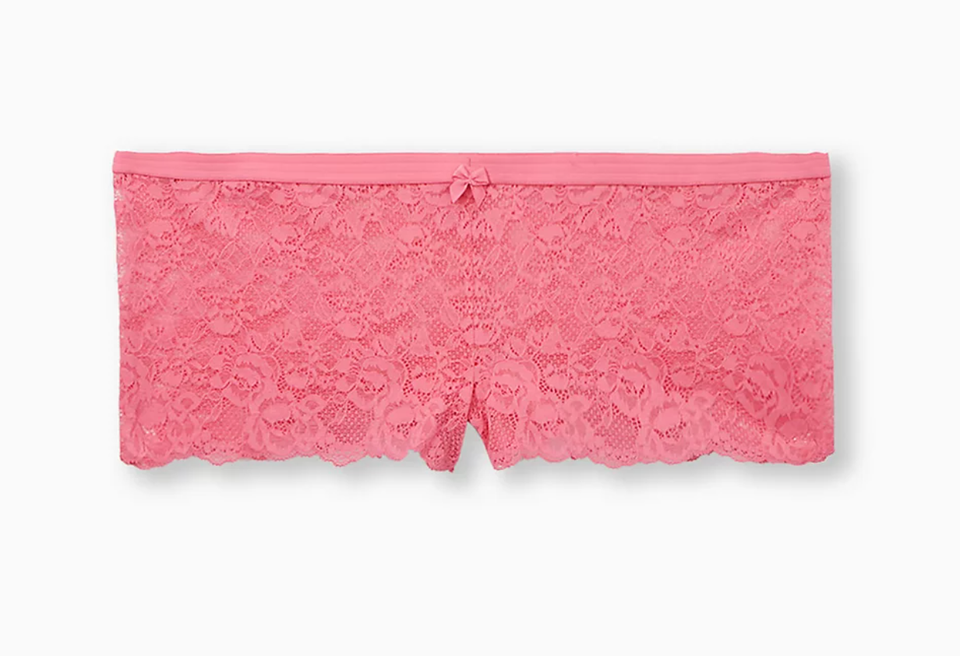 TorridSo you can be pretty in pink under your clothes too.
Promising review: "This color pops and stands out so much. The fit and material is super comfortable and easy to wear all day long." — MISSYC116
Get them from Torrid for $20.50 (available in sizes M-6XL).32And a deep-V lace bralette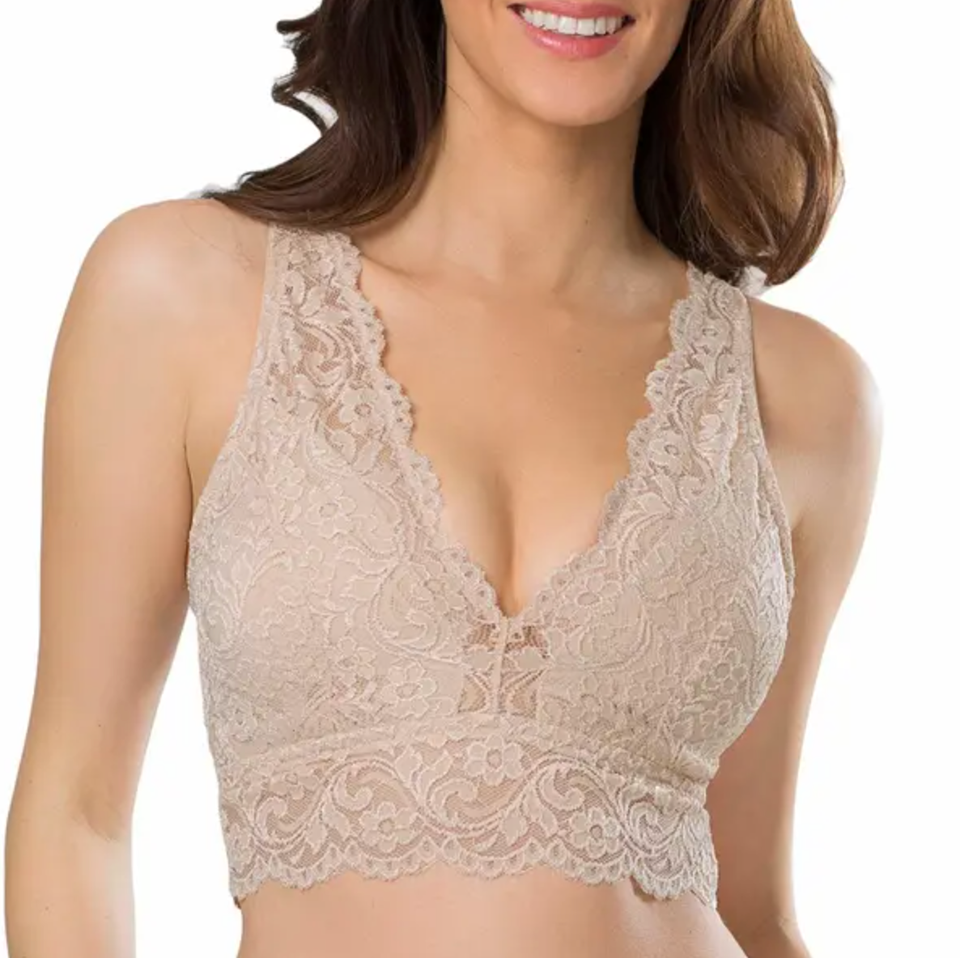 AmazonIt's designed with removable cups and extra-wide straps for the kind of comfort you need from every bra you ever wear.
Promising review: "Adequate support and surprising comfort! I have an hourglass figure and wear a 36DDD or F in standard bras. It's been really hard to find bralettes that work for me. This one is the best so far. I can wear it with the pads for a little more lift, or without for a cooler summer bra that still has adequate support and coverage. The lace is holding up well and has softened a bit with gentle washing, while not losing any support. This bra supports me better than I had expected for a bra with so little structure. I highly recommend it if you're looking for adequate support and no underwire." — Amazon Customer