As the calendar flips to October, Drake appears to be on the brink of his next big takeover, and possibly a new Nike collab.
His next album, Certified Lover Boy, should arrive very soon and we'll see if he can continue his Billboard chart dominance as he has for well over the last decade. Back in August, he released his most recent single "Laugh Now Cry Later," along with a music video that's arguably the best Nike commercial in a long time. Not only did he grab a few of his fellow Swoosh-sponsored friends for cameos, but also he lived out every sneakerhead's dreams by taking a trip through Nike World Headquarters complete with a shopping spree in the company store, where he and a female companion loaded up bags galore. 
Leading up his next album's release, he's shared multiple teasers for Nike-branded merch that includes hoodies and T-shirts emblazoned with a ski-masked cupid capable of a crime spree, caps with kisses, and even socks with a Swoosh-stamped heart. No screen-printed Gildan tees for The Boy or his fans.
The only thing missing from the bundle might be a sneaker to complete the outfit. However, we do know that, too, is in the works.
We recently broke the news that Drake will debut his first official Nike footwear collab, most likely an Air Force 1, sometime in early 2021. That's big considering how close he reportedly came to doing a deal with Adidas after years spent under contract with Jordan Brand. The split could've tipped the cool factor in the direction of Adidas, considering how hot Kanye West and Pharrell's lines were at the time. But, alas, Drake rapped "checks over stripes, that's what I like" on Travis Scott's 2018 hit "Sicko Mode" to let everyone know all was well between him and Nike.
There are also two versions of an unreleased Air Jordan XI sample with snakeskin that many attribute to Drake, but we can't confirm or deny his connection to the shoe, other than he had them first.
Before the next chapter begins and a proper Drake x Nike sneaker drops we decided to take a look back at the most notable sneakers between the Canadian rap star and Jordan Brand. They include several exclusives only available to Drizzy and friends, which are customary perks associated with being one of the biggest names in music and a driver of pop culture. A handful of retail releases are sprinkled in there, too—granted, any sneakerhead who wants them had to go up against a rabid fanbase eager to get their hands on anything bearing their favorite artist's name.
Air Jordan 3 "Anaconda"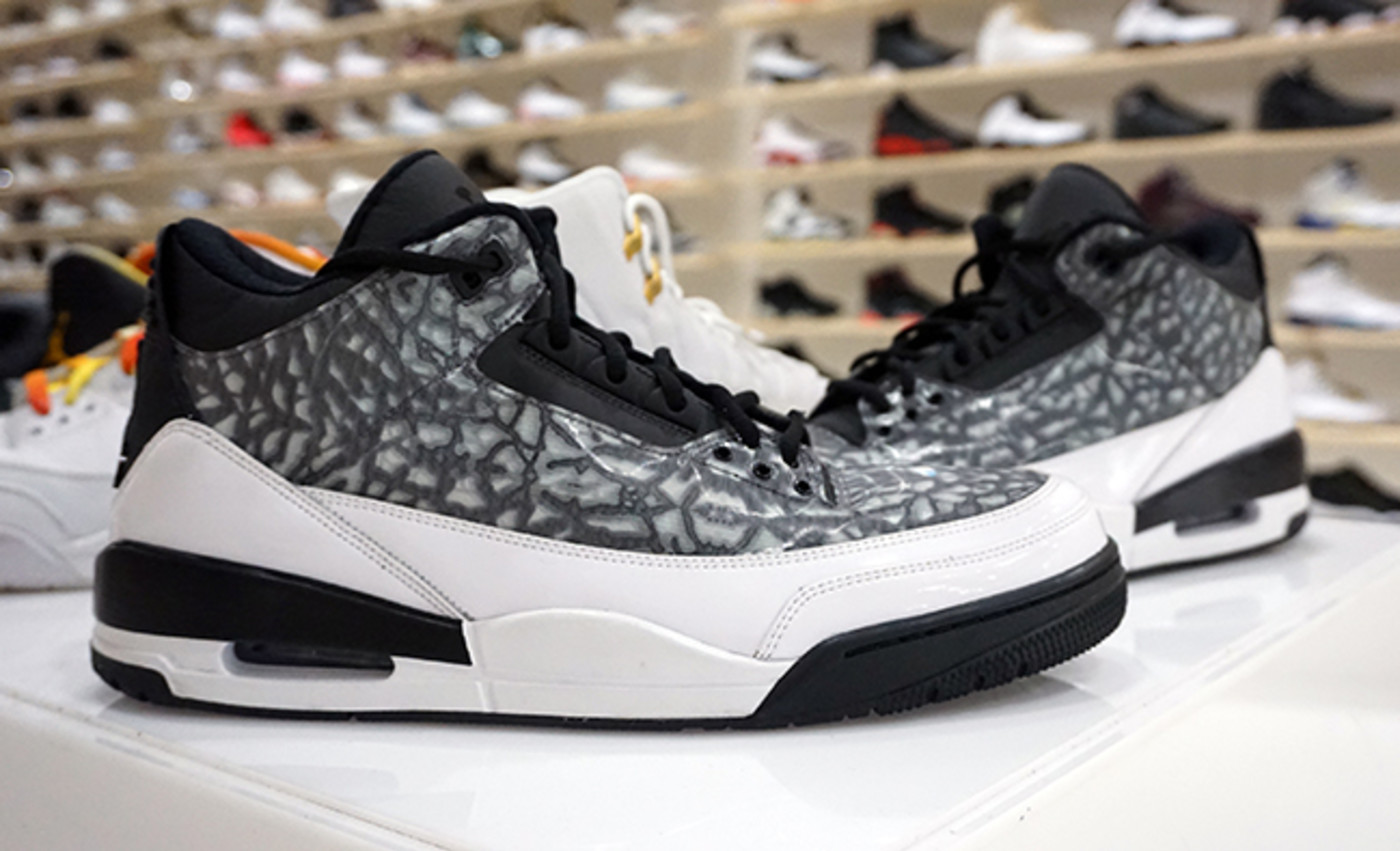 Release Date: Unreleased (2014)
Retail Price: N/A

Longtime Nike designer Mark Smith concocted this Air Jordan 3 using an eye-catching lenticular film to layer the upper in classic elephant print. "I didn't think anyone would notice the shoes, because I didn't," Smith told us in a 2014 interview, "but it was cool to make them for him." And he was right—most people probably didn't recall seeing the kicks. The shoes were so easily overlooked because Drake wore them as he received a BET Uncut-worthy lap dance from Nicki Minaj in her "Anaconda" video. MJ made memories flying through the air on the court; Drake did it more effortlessly just by sitting down.
Air Jordan 3 "Drake vs Lil Wayne"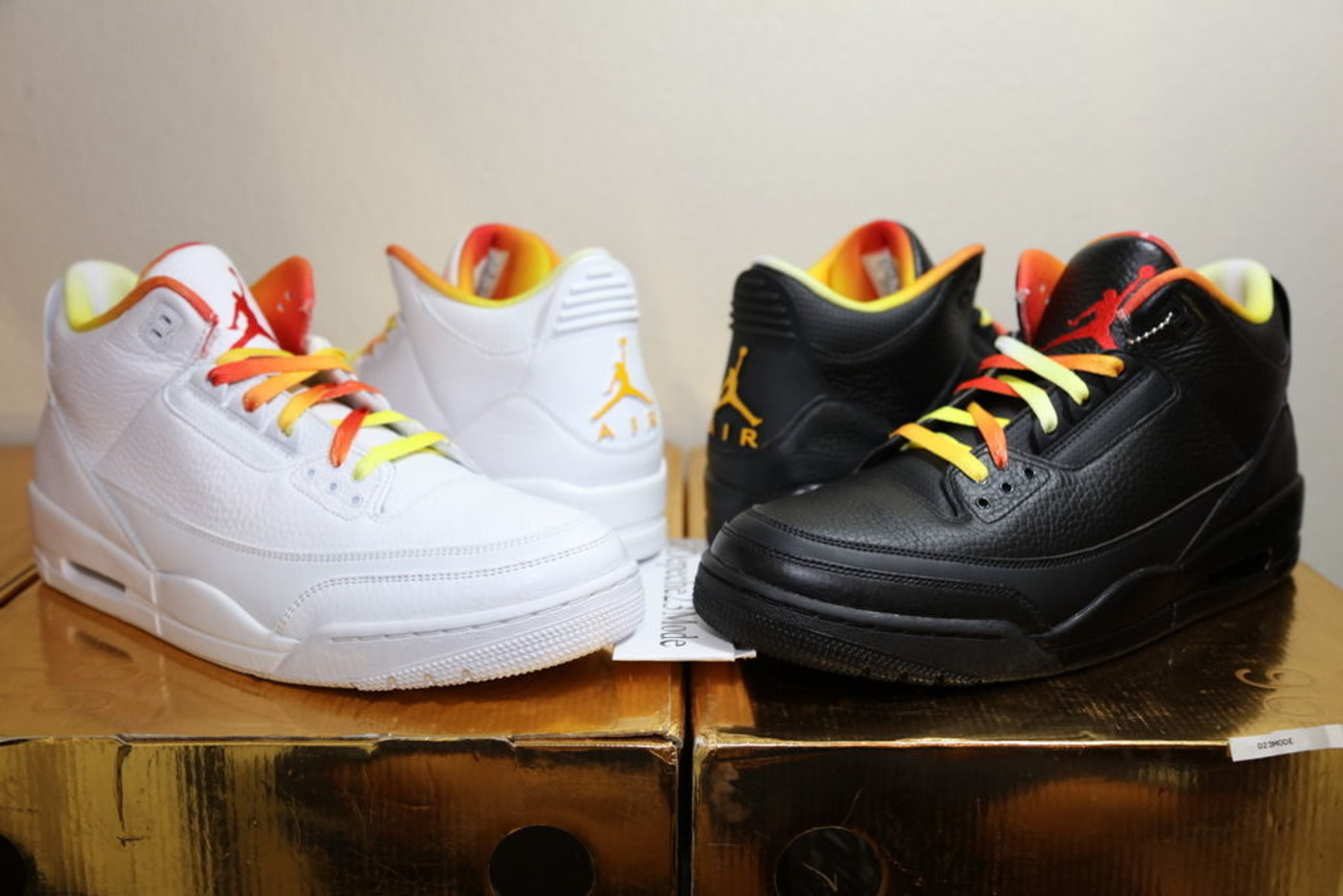 Release date: Unreleased (2014)
Retail price: N/A
This set of unreleased gems was made specifically for Drake as he co-headlined a tour with his mentor Lil Wayne back in 2014. Two very straightforward takes were created—one predominately white, the other draped in black—with tumbled leather, custom insoles, and matching laces to execute the Street Fighter vibes of the tour branding. Locating either of the two won't come easy or cheap as they're arguably one of the most scarce sets seen here.
Air Jordan 3 "Gold"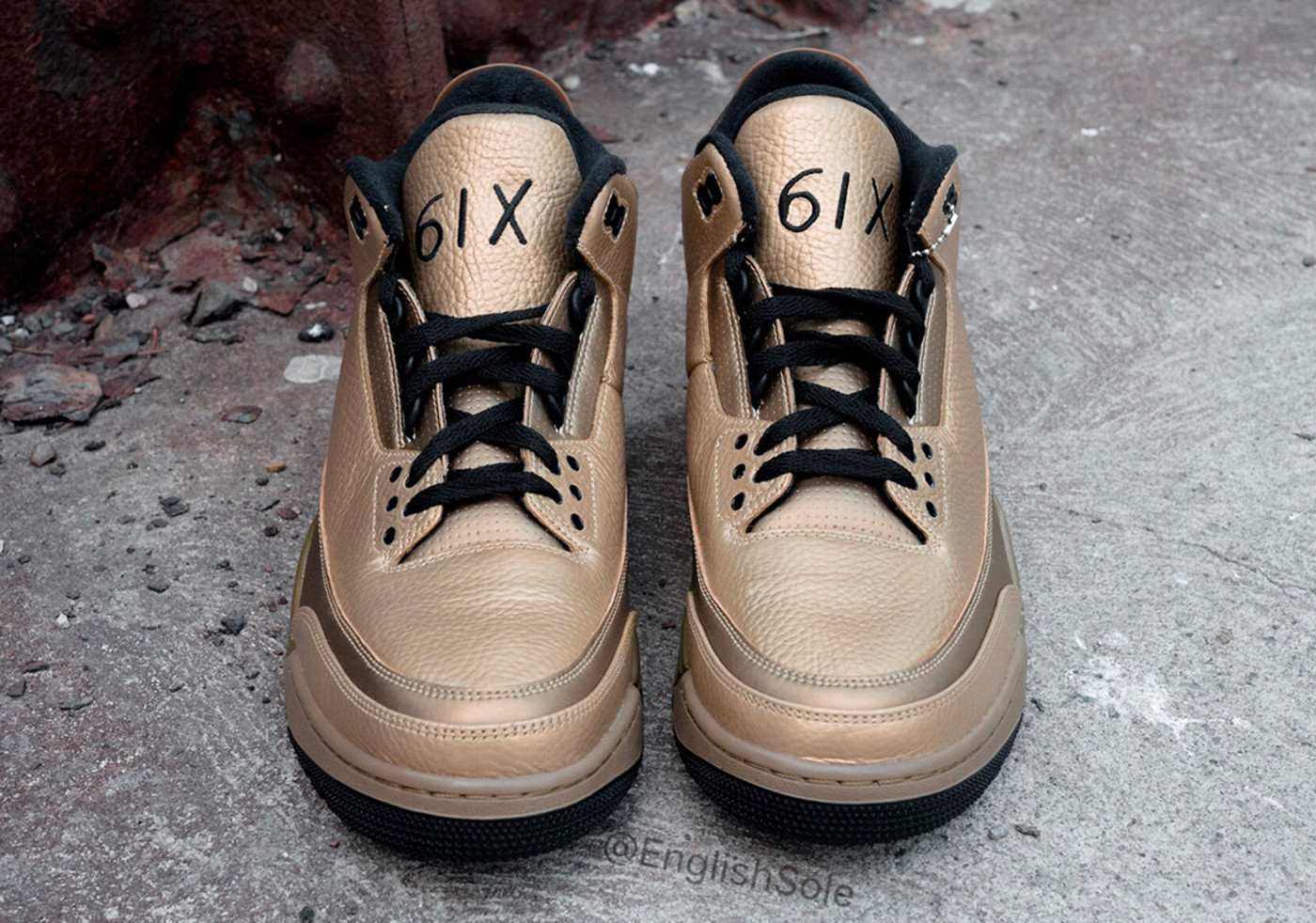 Release date: Unreleased (2014)
Retail price: N/A
One thing established early in the relationship between Drake and Jordan Brand is the usage of gold for his sneakers. This one-of-one Air Jordan 3 crafted exclusively for him drives the point home. It's dipped in gold, adorned with "6IX" on the tongue—a nod to his Toronto hometown's adopted nickname—plus a tiny amount of pink on the outsole. First seen at 2014 OVO Fest, these shoes never released to retail, making them another unicorn pair.https://03b5828673d9a65697e56ab9de4f229a.safeframe.googlesyndication.com/safeframe/1-0-37/html/container.html
Air Jordan 10 "White OVO'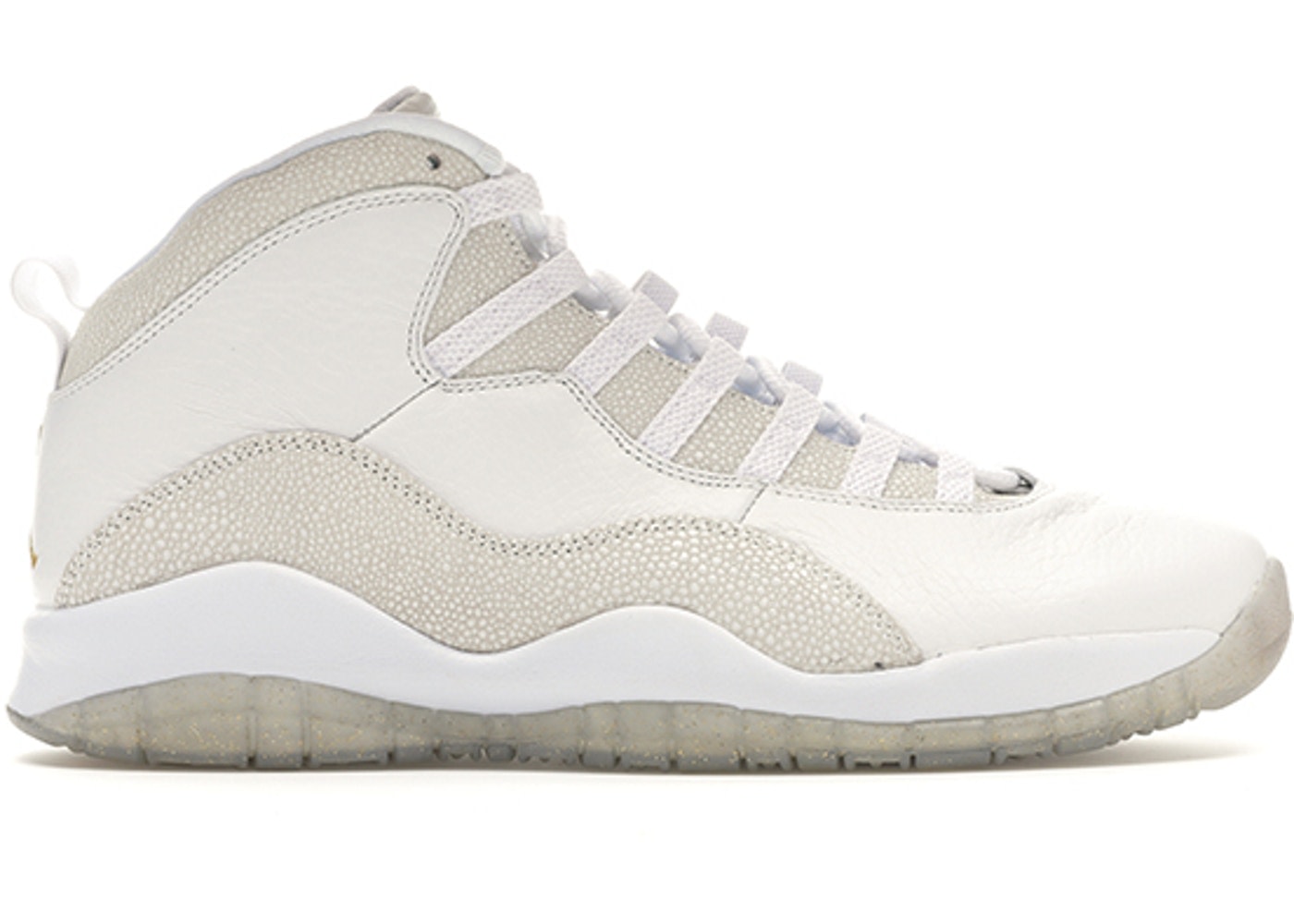 Release Date: Sept. 12, 2015
Retail Price: $225
After the early exclusives, October's Very Own and Jordan Brand officially introduced the partnership to retail on the Air Jordan 10 Retro. The summit-white leather upper paired perfectly with the stingray leather overlays, the white midsole, and translucent outsole with gold flakes throughout. Minus OVO printed on the bottom, no heavy distinctions exist on this pair, making it a if-you-know-you-know deal for sneakerheads and Drake fan club members.
Air Jordan 10 "Black OVO"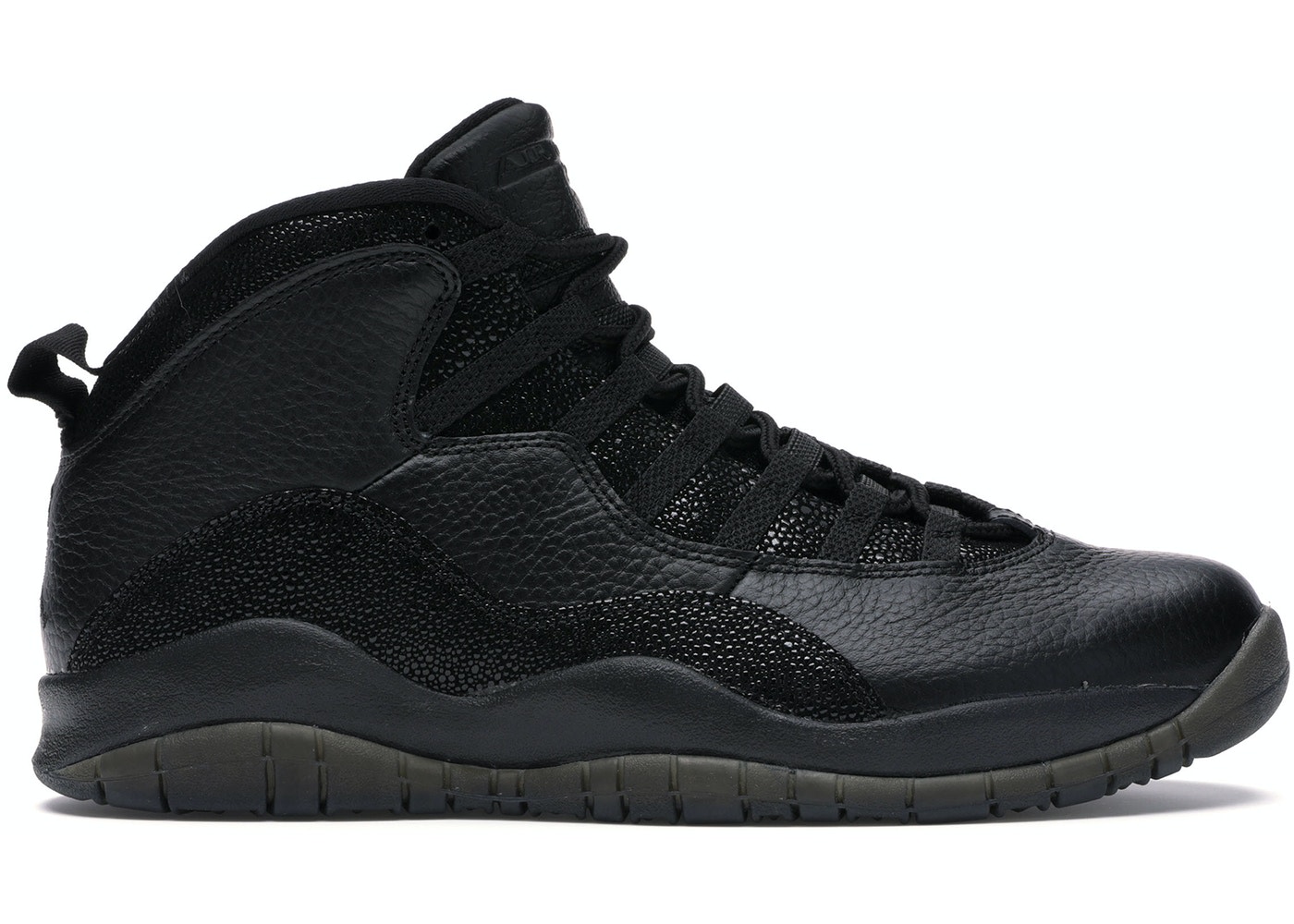 Release Date: Feb. 13, 2015
Retail Price: $225
Drake first showcased the OVO x Air Jordan 10 Retro 'Black' pair at a "Drake Night" event during a Toronto Raptors game in 2014. It was the perfect way to display a pretty eye-catching pair, which featured a tumbled black leather upper with stingray leather overlays, gold accents, and translucent soles. The Drake Effect rendered the Jordan 10, normally considered one of the least liked retro models, suddenly likable.

Jordan Brand pulled off a bit of marketing synergy by dropping a short video lookbook featuring the shoe, accompanying apparel and "Jumpman," Drake and Future's ubiquitous hit song from What a Time to Be Alive, as the backing track. It was certainly a good way to squeeze the most out of partnership for both parties.
Air Jordan 12 "White OVO"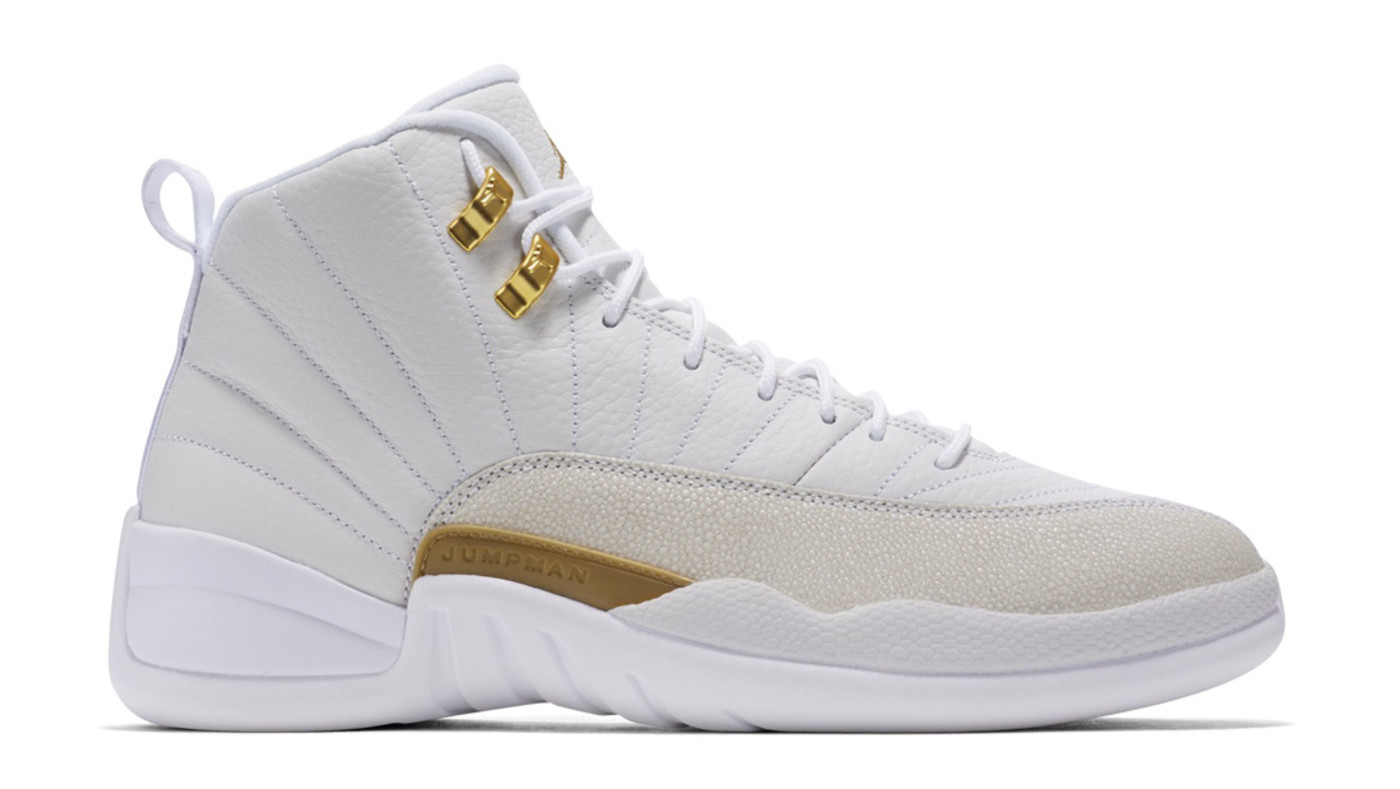 Release Date: Oct. 1, 2016
Retail Price: $225
My kids and I are pro-Drake. When polled, my daughter and son nominated the Retro 12 as the best pair born from the OVO-Jordan relationship. "The colorway is the most versatile," my daughter explained. "It's just a simple but nice shoe." It's hard to argue against the logic, although I'd say it applies to nearly all of the shoes on this list. Unlike so many others, Drake never takes too many liberties with the designs. He sticks to a limited color palette and mixes in gold elements like an alchemist.
Jordan Hydro Slide "OVO"
Release Date: Oct. 1, 2016
Retail Price: $65
The OVO Hydro Slides released as a complimentary option alongside the white Jordan 12 Retro. The lifestyle option shares the same summit white, white, and gold color scheme as the shoe as well design cues clearly taken from it, too. The leather and OVO lettering on the strap give the Hydro Slide a slightly more elevated appeal than the average pair of slides rec league hoopers throw on after games. They sell for more, too, with pairs going for hundreds on the resell market.
Air Jordan 6 "Hot 100s"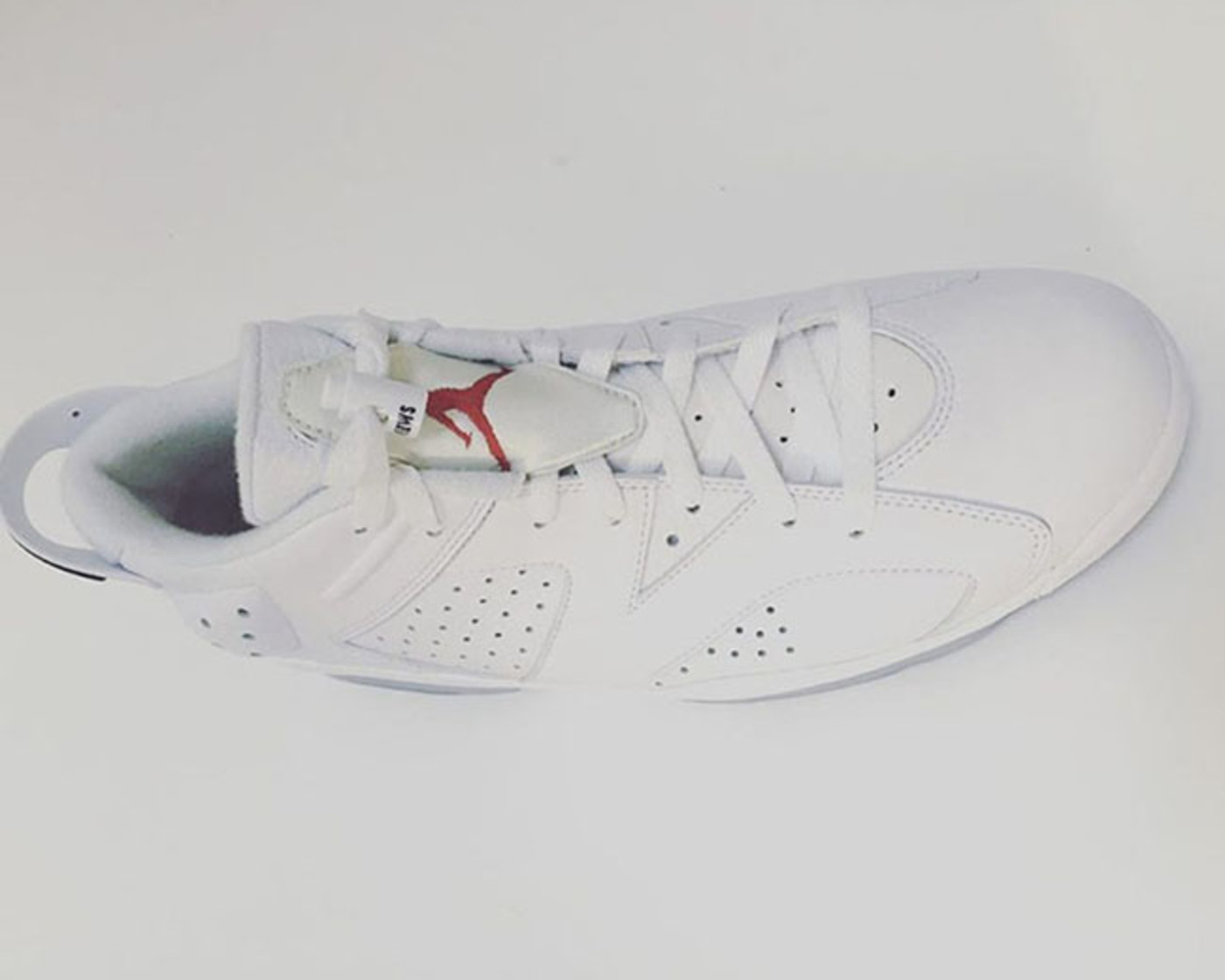 Release Date: Unreleased (2016)
Retail Price: N/A
Back in 2016, Drake sat on top of the music world when Views, his fourth studio album, scored the number one spot on the Billboard 200 chart and clocked over one million sales in the first week. To celebrate the achievements, the rapper received a pearly white Jordan 6 Low, which he dubbed the 'Hot 100s." The shoe's translucent outsoles highlighted the album title as did the lace locks for a personalized touch. Given the special nature of these, Drizzy's probably one of a highly select few who will ever lace them up.
Air Jordan 12 "Black OVO"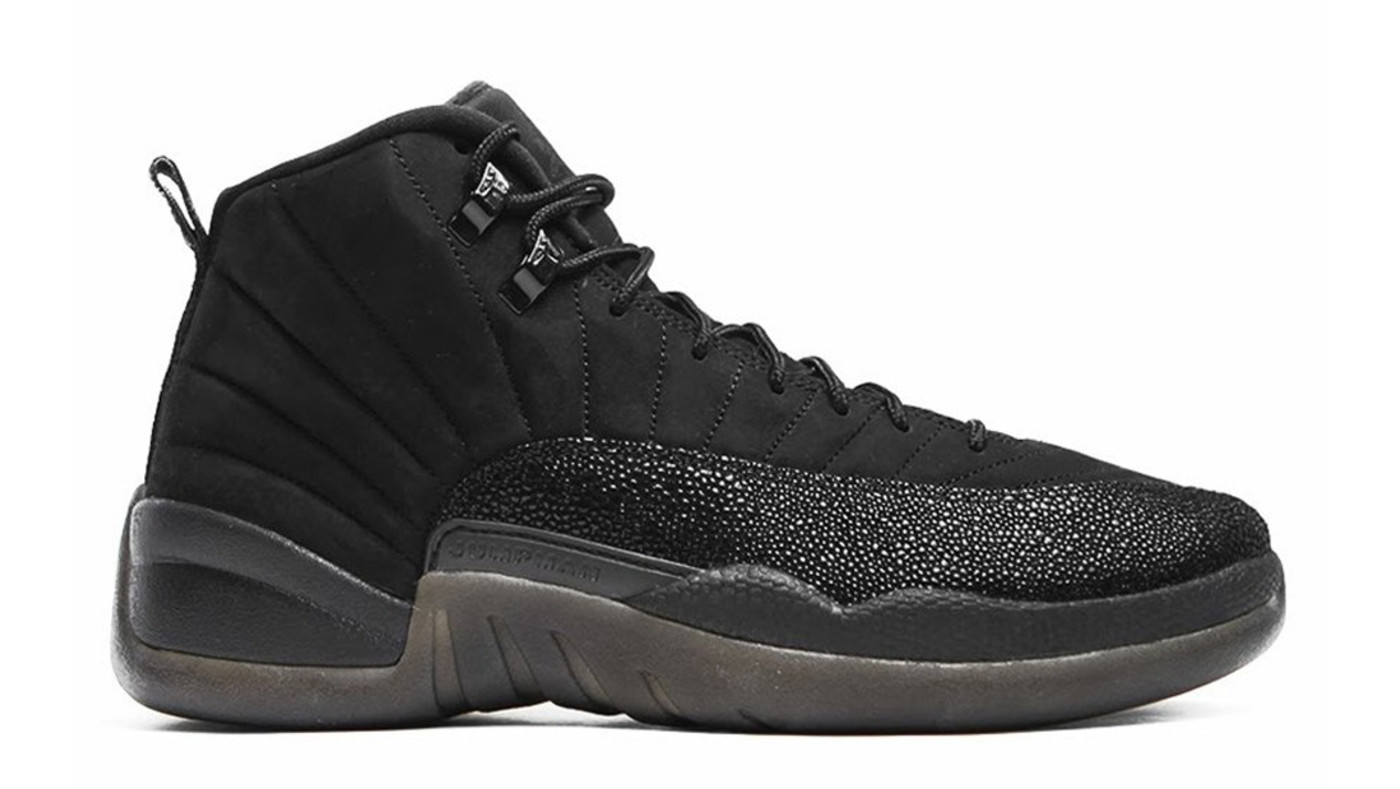 Release Date: Feb. 18, 2017
Retail Price: $225
Here's another Jordan 12 Retro, but this time done in all black everything: premium black nubuck, more stingray overlays, and OVO branding on the outsoles and insoles. It may not be as remarkable as its white counterpart, but it's still a strong shoe. This 2017 NBA All-Star Weekend release wasn't the easiest to purchase—a recurring theme for Drake's footwear.
Jordan Trunner LX "OVO"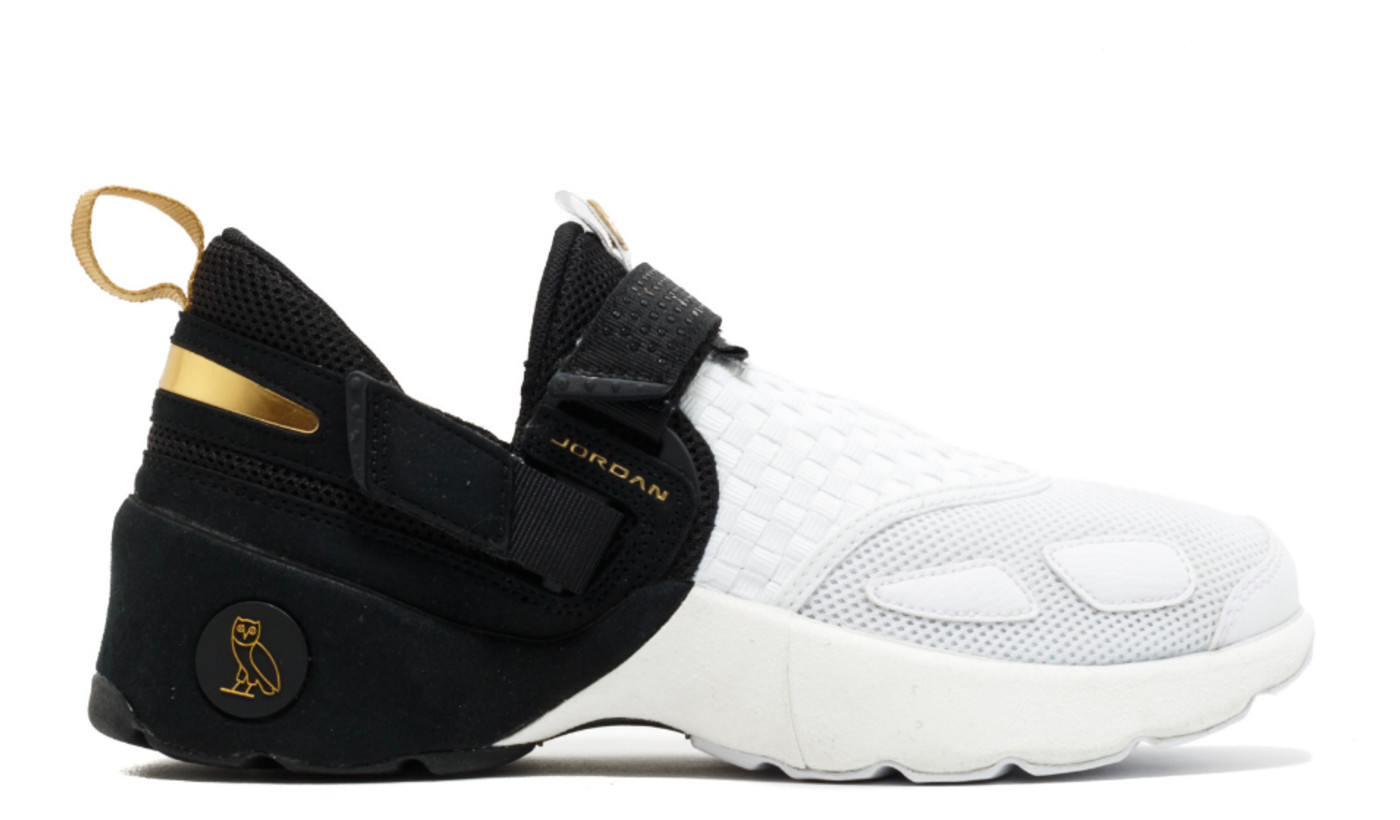 Release Date: May 27, 2017
Retail Price: $140
Kudos to Drake and/or whichever Jordan Brand exec decided to show the Trunner LX some love. In 2017, a limited run of the often overlooked training model released in conjunction with the grand opening of 306 Yonge, Jordan's retail outpost in Toronto. While the white/black color scheme is standard fare, the always present owl replaces the Jumpman logo on the rear section of the midsole and adds a little pop in the process.
Air Jordan 8 "Calipari Pack"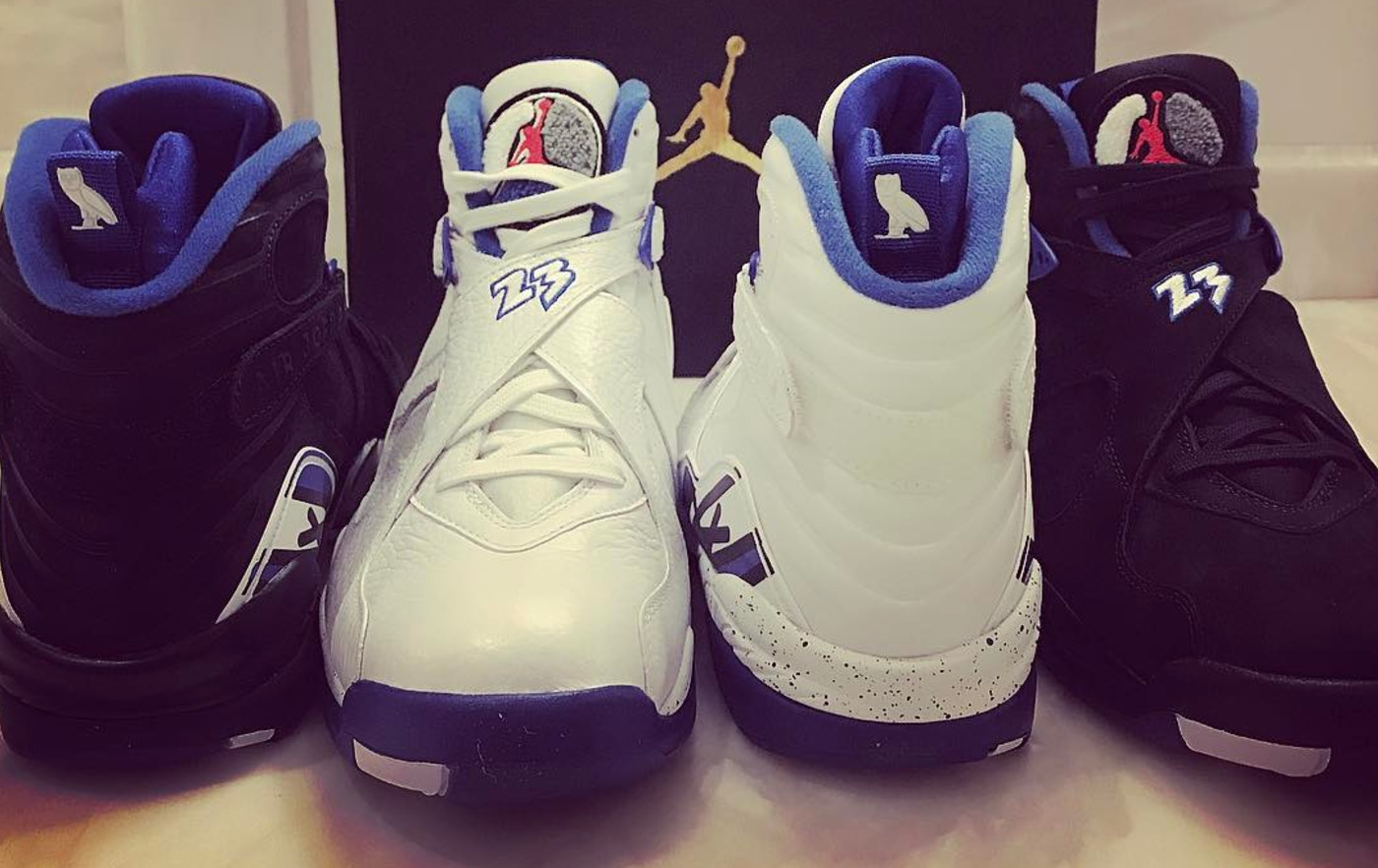 Release Date: $140
Retail Price: May 27, 2017
Drake's always shown love to his adopted college alma mater, and the Kentucky Wildcats men's basketball team and Coach John Calipari reciprocate it often. Jordan Brand blessed Drake with not one but two Air Jordan 8 Retros, which he dubbed the 'Calapari Pack.' The black pair sported a nubuck upper while the white was dressed in leather. Each featured Kentucky blue accents and the OVO owl on the heel tab. In 2017, the entertainer hinted at a possible release but it never manifested. During his Sneaker Shopping appearance, Coach Cal told us only 80 pairs exist, so they likely remain limited to the likes of blue chip recruits and friends of the program. Drake falls in the latter group since we saw how things played out when he tried to run with the former back in 2014.
Air Jordan 8 "OVO'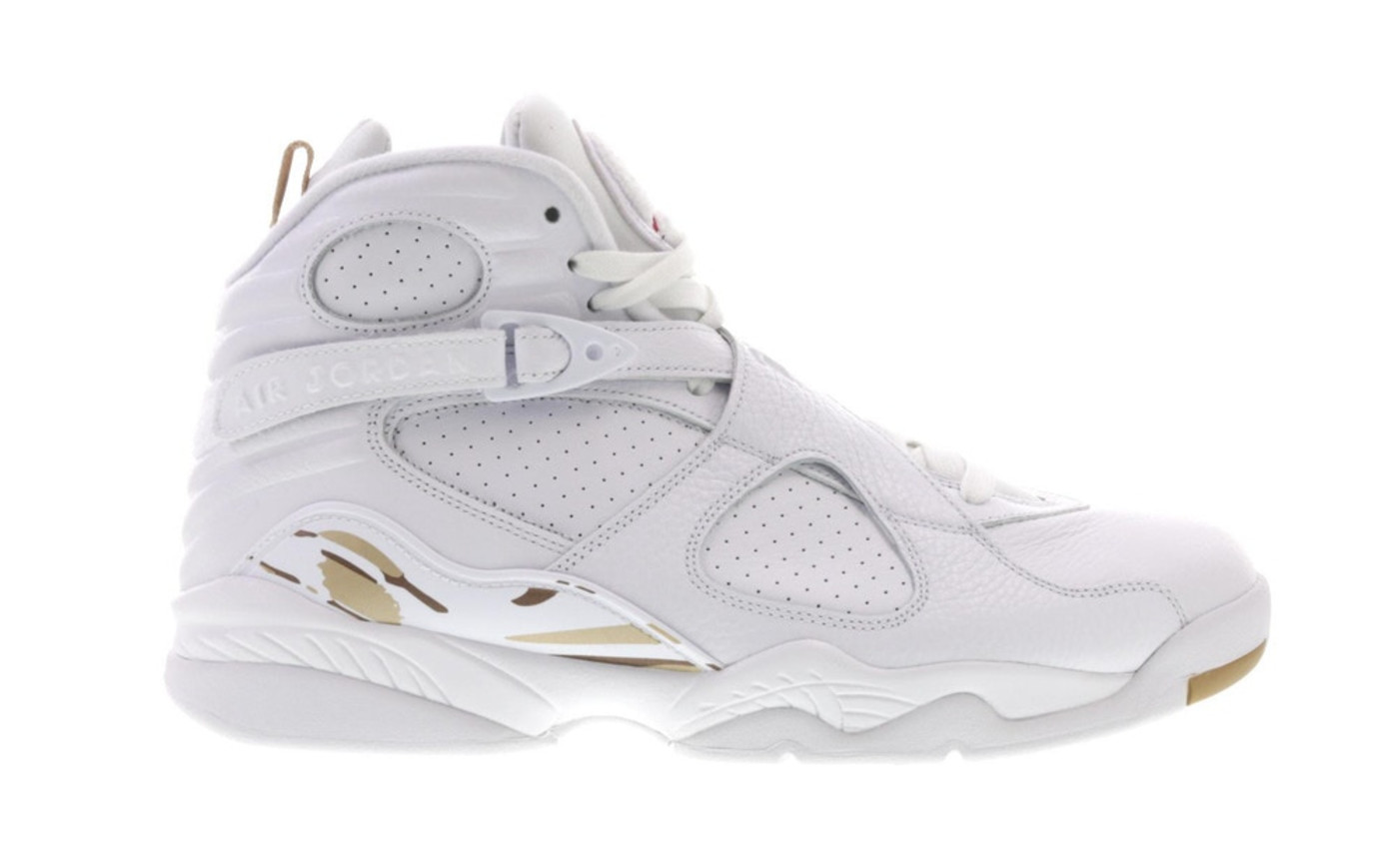 Release Date: Feb. 16, 2018
Retail Price: $225
The black and white versions of the OVO Air Jordan 8 released in February 2016 during NBA All-Star Weekend. The mix of black leather and suede gives the Retro 8 a little extra menace. The white pair rocks an all-white leather upper for a touch of class. Both models feature the customary use of gold accents around the heel and the OVO owl sits perched high on the heel tab. Theoretically, everyone had a chance to grab these since they dropped on SNKRS, but…yeah. There are better odds for owning them than the one-of-one models featured here, although not by very much.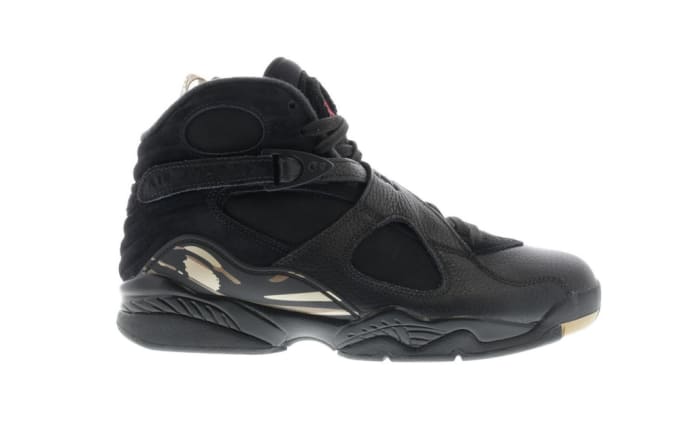 Air Jordan 14 "God's Plan"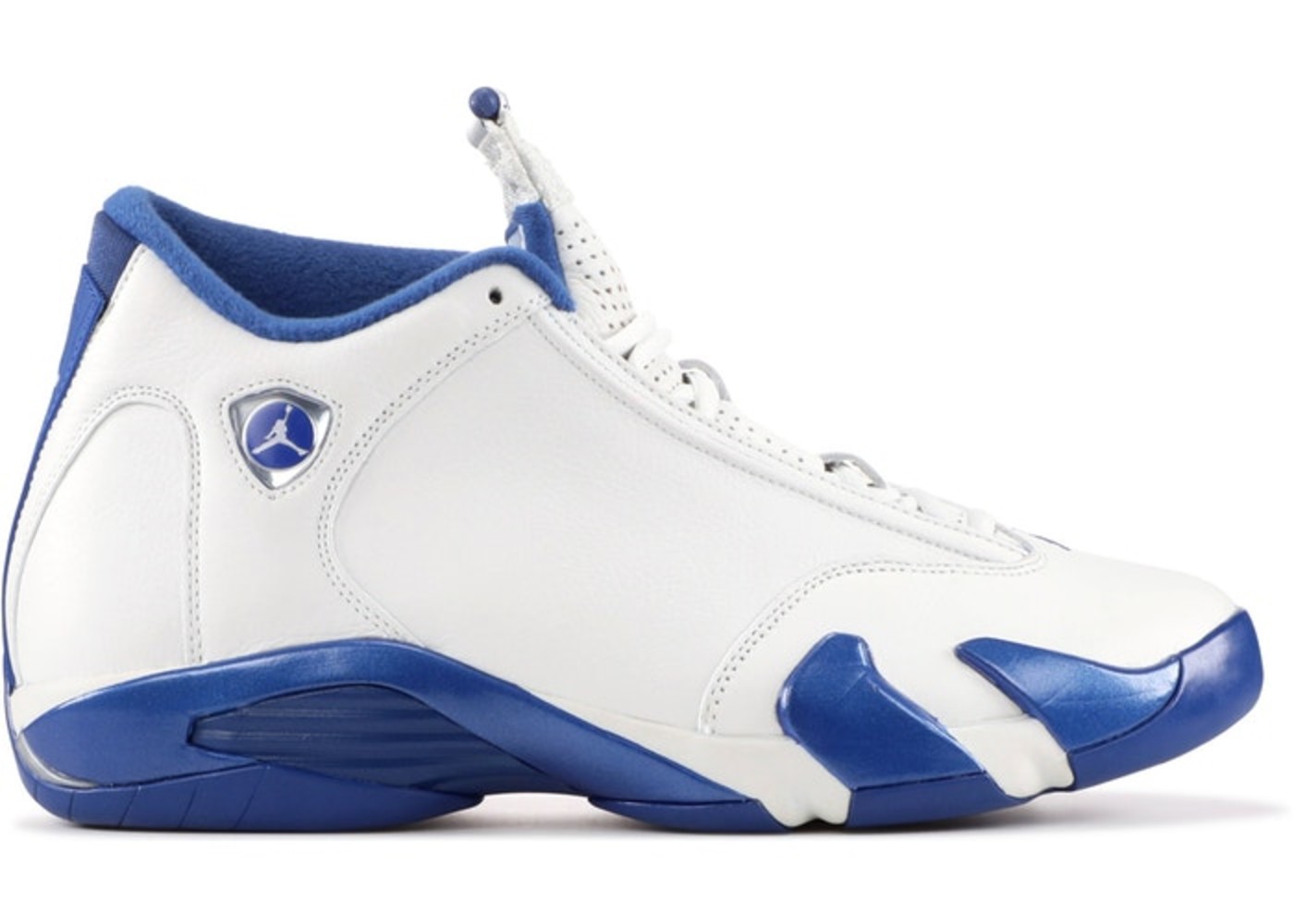 Release Date: Unreleased (2018)
Retail Price: N/A

The old folks say the Lord works in mysterious ways and the 'God's Plan' Jordan 14 stands as a testament to that ideal. White leather makes up the upper while storm blue, the shade commonly associated with the Kentucky Wildcats, dominates midsole, outsole, and sockliner. Little nods to Drake's camp appear with OVO stitched in the heel and the gold owl logo on the tongue. However, not a lot of detailed info exists for this pair and it will require a miracle orchestrated by a higher power to own a pair since they don't sell for cheap.
Air Jordan 4 "Drake/Raptors"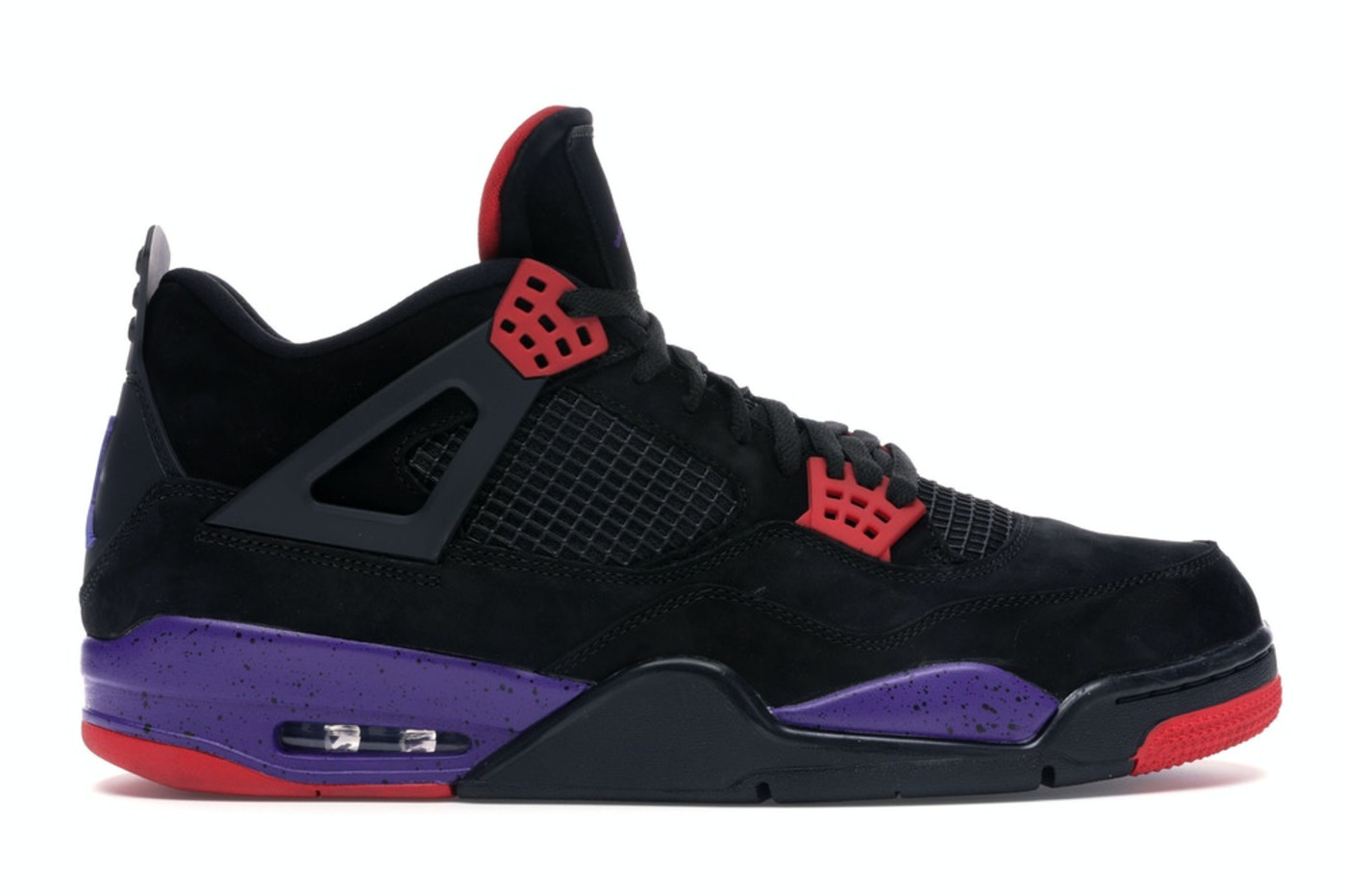 Release Date: June 2, 2019
Price: $200
Controversy ruined what could've been seen as a victory lap for the artist and the brand alike. This was Drake's name attached to a Jordan 4 Retro in Toronto's team colors of black, purple and red. Leaked images generated a lot of chatter when people noticed Drake's signature sketched below the Jumpman logo on the tongue tag, which was the only real distinction between it and what would become the retail version.
The shoe suffered the misfortune of Drake and Jordan Brand reportedly being on the outs and the Canadian superstar supposedly looking to jump ship to rival brand Adidas. That was until pesky Pusha T blew things up with a damaging diss song. The jig was up, the public knew too much about Drake's business, and personal, dealings. It created a distraction around a release that should've been an easy layup.
The general release pair did eventually arrive in August 2018 before the version bearing Drake's name arrived almost one year later in June 2019, in limited fashion, in celebration of the Raptors' first NBA Championship.
Air Jordan 4 "OVO Splatter"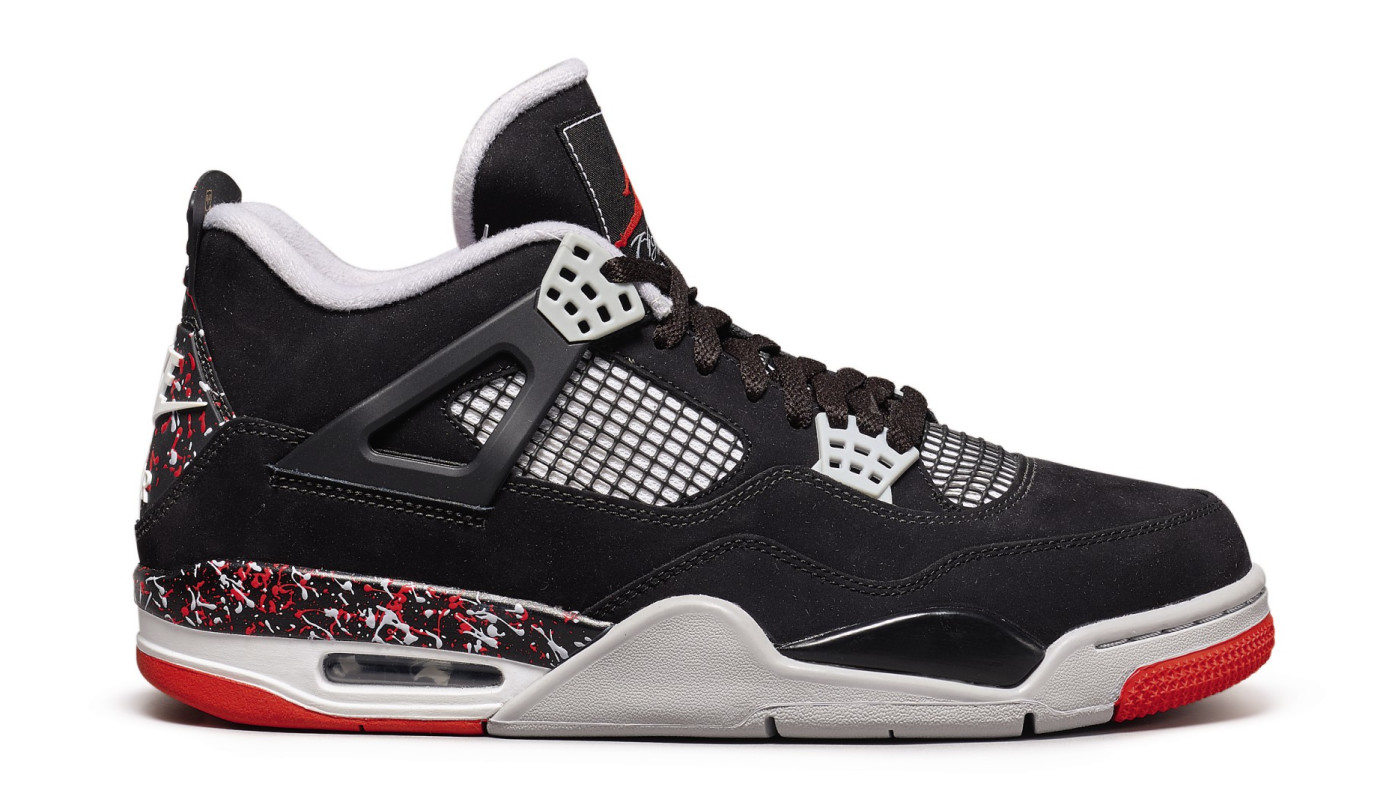 Release date: Unreleased
Retail price: N/A
The 'Splatter' Air Jordan 4 owns an untold history, a rare trait in a time where no ideas remain in the vault for long. It's based on an original 1989 sample colorway that never released and was rarely mentioned beyond collectors circles. Drake first showed them off in 2017, which made sneaker enthusiasts believe a release was imminent. Time passed, nothing happened, and that was the end of that. Fast forward to 2020 and an OVO-branded sample with the owl logo inside the heel tab and insoles bearing OVO/6 God markings landed in Soethby's auction of rare hip-hop items. The sneakers' selling price of over $32,000 means anyone interested in finally acquiring these may find continuing to wait for retro to hit retail the more economically feasible route.